OH YEAAAA FEELIN goooood here at the blog. Not so good that I actually want to write out a Week Review but good enough to write out a QUICK HITTAZ. Which honestly will likely offend the people that tried to HIJACK this blog even more. I suspect SOME PEOPLE find Quick Hitters offensive because of its brevity and to those people I say:
"Brevity is the brother of brilliance" — George Steinbrenner, allegedly, like at least once…
I also say fuck you, write a review yourself then you illiterate bastards. ON TO Week 17 Quick Hitters…
BUT FIRST, an important note on the tie-breaking procedures that will undoubtedly affect that whole Backyard Bracket thing that's gonna start in another week….
Head to Head playoff tiebreakers:
Head to Head
Wins
Division Record
Total Season Stats
Record Last 9 Games
Longest Win Streak
Most 10+ category win weeks
Coin flip
More than 2 team tiebreakers:
Head to Head (requires a complete sweep by one team)
Wins
Division Record
Record Last 9 Games
Longest Win Streak
Most 10+ Category Win Weeks
Coin Flip
What does all of that mean for The Backyard Bracket this year?! FUCK IF I KNOW, I thought about writing up detailed scenarios but that already seems really hard. Please refer to Mike's crudely written charts as a starter course:
WEEK 17 QUICK RESULTS: 
Kings (10-7) over Leviations (6-11) — 10-1-3
MVP:  Noah Syndergaard (14 Ks, 2 QS, 1 W, 0.63 ERA)
lvp:  Justin Upton (0-10)
Banana Slugs (6-10-1) over X-Rayz (6-8-3) — 8-4-2
MVP:  Vlad Guererro Jr. (3 HRs, 11 RBIs, .536 OBP)
          lvp:  Mallex Smith (2-22, 3 SBs, .167 OBP)
Isotopes (8-9) over Renegades (7-9-1) — 8-4-2    
MVP:  Nolan Arenado (6 Rs, 2 HRs, 6 RBIs, .385 OBP)
          lvp:  Victor Robles (1-16, 2 Rs, .286 OBP)
Bears (7-9-1) over Fishing Club (8-8-1) — 8-6-0
MVP:  Austin Meadows (1 3B, 3 HRs, 6 RBIs, .350 OBP)
          lvp:  Kris Bryant (LVPOTW)
BBOTW:  BackdoorSliderz (16 and ONE) over Bad Dudes (6-8-3) — 11-2-1
MVP:  Walker Buehler (MVPOTW)
   lvp:  Wilson Contreras (3-16, 1 R, 1 RBI, .188 OBP)
WEEK 17 QUICK NOTES:
The Kings wrapped up the #2 seed in Week 17, and those fux in Lacey have had the #1 seed wrapped up since like early June, so we have our top two all set for the #BackyardBracket. #s 3 through 6 will be an ABSOLUTE MESS, but that mess will have sorted itself out by this time next week (hopefully).
The Isotopes stopped the bleeding in Week 17 with a much-needed win (previously had lost 4 in a row, previous to this previously had won 7 in a row, previous to the previous to the previous previously had lost their first 5 to start 2019) over the Renegade Force. With the victory they now find themselves poised to grab the #3 seed or the 4 or the 5 or the 6 or the 7.
The Bears lead the league in runs scored for the second week in a row, perhaps coinciding with Jose Altuve having two working legs perhaps coinciding with the team trolling their owner for declaring they couldn't win out. They still might not win out, but probably need a W combined with a Renegade Force L to make the playoffs. They've already won though, when you really think about it.
The Banana Slugs managed to stave off formal elimination in Week 17 with a victory over the X-Rayz, both teams would be out if the playoffs started today (I think? I know for da Slugs) but THEY DON'T, so that's fortunate for them and for the league as a whole. Need to sort this mess out.
UNFORTUNATELY that means there is one team that has been eliminated from #BYB contention and that team is the Lakehurst Leviathans, a blog favorite. Regardless of coming up short of their goal in the 2019 season the Leviathans can hold their heads hight for TWO (2) reasons:  1- They have more wins this season than their first two seasons combined, in a particularly brutal year within the Backyard. and 2- They called out ESPN in a tweet which netted us a potential free trial on Fantrax, or maybe it inspires ESPN to get their shit together, or maybe some combo of the two. Hats off to the 2019 Lakehurst Leviathans, look forward to seeing what they can do in 2020 (should the league exist, @Brian ;)).
WEEK 17 QUICK AWARDS / JROLLS
MVP OF THE WEEK: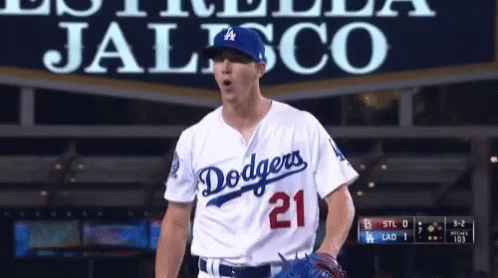 WALKER BUEHLER (partly cuz he was last time so it saves me from finding a new GIF)
9 IP, 1 ER, 15 Ks, 1 QS, 1 W, 1 CG, 1.00 ERA
LVP OF THE WEEK:
KRIS BRYANT (partly so I could use this GIF…)
13/20, 2 Rs, .150 OBP
WEEK 17 JROLLS:    
Javier Baez (ECK, 1)  [8/24, 5 Rs, 3 2Bs, 1 3B, 1 HR, 5 RBIs, 2 SBs, .360 OBP]
Trevor Story (BBS, 3)  [6/22, 6 Rs, 1 2B, 1 3B, 3 HRs, 5 RBIs, 1 SB, .385 OBP]
UPDATED JROLLs REPORT (through Week 17):
1.)  Adalberto Mondesi (LL)  –  4
2.)  Trevor Story (BBS)  –  3
3.)  Whit Merrifield (BBS)  –  3
4.)  Elvis Andrus (ECK/RRF)  –  2
5.)  Christian Yelich (ECK)  –  2
6.)  Fernando Tatis, Jr. (LTBS)  –  2
7.)  Ahmed Rosario (OGFC)  –  2
8.)  Francisco Lindor (ECK)  –  2
9.)  Trea Turner (OGFC)  –  2
10.)  Kolten Wong (PBX)  –  1
11.)  Cody Bellinger (LTBS)  –  1
12.)  Ender Inciarte (BBS)  –  1
13.)   Ronald Acuna, Jr.  (LTBS)  –  1
14.)  Byron Buxton (RCBD)  –  1
15.)   Kelvin Gutierrez (PBX)  –  1 
16.)   Ronny Rodriguez (RRF)  –  1
17.)  Javier Baez (ECK)  –  1
18.)  Mookie Betts (OGFC)  –  1
19.)   Jonathan Villar (IBB)  –  1
20.)  David Dahl (RCBD)  –  1
21.)  Trey Mancini (LL)  –  1
22.)  Yasiel Puig (BBS)  –  1
23.)  Juan Soto (LTBS)  –  1
24.)  Jose Ramirez (PBX)  –  1
25.)  Oscar Mercado (RRF)  –  1
26.)  Freddy Galvis (AI)  –  1
27.)  Starling Marte (LL)  –  1
28.)  Marcus Semien (IBB)  –  1
29.)  Keston Hiura (LTBS)  –  1
30.)  Lourdes Gurriel, Jr. (PBX)  –  1
31.)  Austin Meadows (OGFC @ z time)  –  1
32.)  Adam Eaton (LL)  –  1
Thank you for tuning in to Week 17 QUICK HITTERS