OUR LONG BACKYARDONAL NIGHTMARE IS OVER. A few weeks ago the Lacey Township BackdoorSliderz were some sort of undefeated unstoppable juggernaut (likely influenced by some wholly unsustainable BABIPs but I digress), their heel of an asshole of an owner had taken over the blog with promises of timely content and copious wrestling references, and things looked bleaked folks. Fast forward a few weeks and there has been very little content (FRAUD), and the BackdoorSliderz have finally tasted defeat in the 2019 Backyard season (FRAUD), and now I have returned to write about it in longform while also restoring Jimmy Rollins to his rightful JROLL throne. If you're threatening an undefeated season culminating in a second straight championship we are forced to take you seriously because that THREATENS the 3PO greatest team of all time narrative. And that allows you a little leeway within the blogosphere. But now you're just some fraud that's got a first round bye that's got to HOPE AND PRAY their team's insanely good fortunes aren't running out all at once at the worst possible time. Better to be .450 BABIPing in August and not April, folks. To be fair they also have insanely good players BUT you also have to yanno, HOPE AND PRAY those guys don't slump or get injured. I see vulnerability in the Lacey's beady little eyes…..
Oh yea there's also some other matchups that happened, the X-Rayz finally bulk reliever'd their way to the Ks record, etc. etc. etc. all will be covered BUT FIRST…..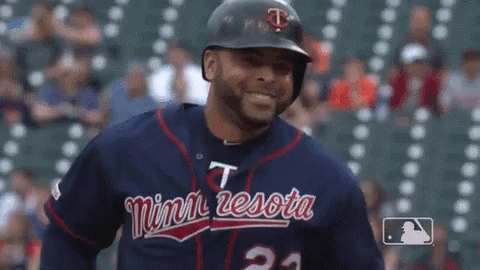 East Coast Kings Perhaps Permanently Pummel Playoff Plans Pertaining Towards The Barnegat Banana Slugs (Probably?)  –  12-2-0
MVP:  Nelson Cruz  –  Honestly I forgot the Kings even HAD Nelson Cruz (been kinda outta the review game for a minute) but LOVE IT LOVE HIM love the energy, he's my second favorite Old Man Masher in baseball (see opening GIF for #1).  12/29, 10 Rs, 1 2B, 7 HRs, 13 RBIs, .485 OBP     
LVP:  Yasiel Puig  –  Yasiel just didn't contribute much stuff this week, and that's about as much analysis as I intend to give here. On the Yasiel front.  4/21, 4 Rs, 2 2Bs, .292 OBP        
JROLLs:  Francisco Lindor (2, ECK)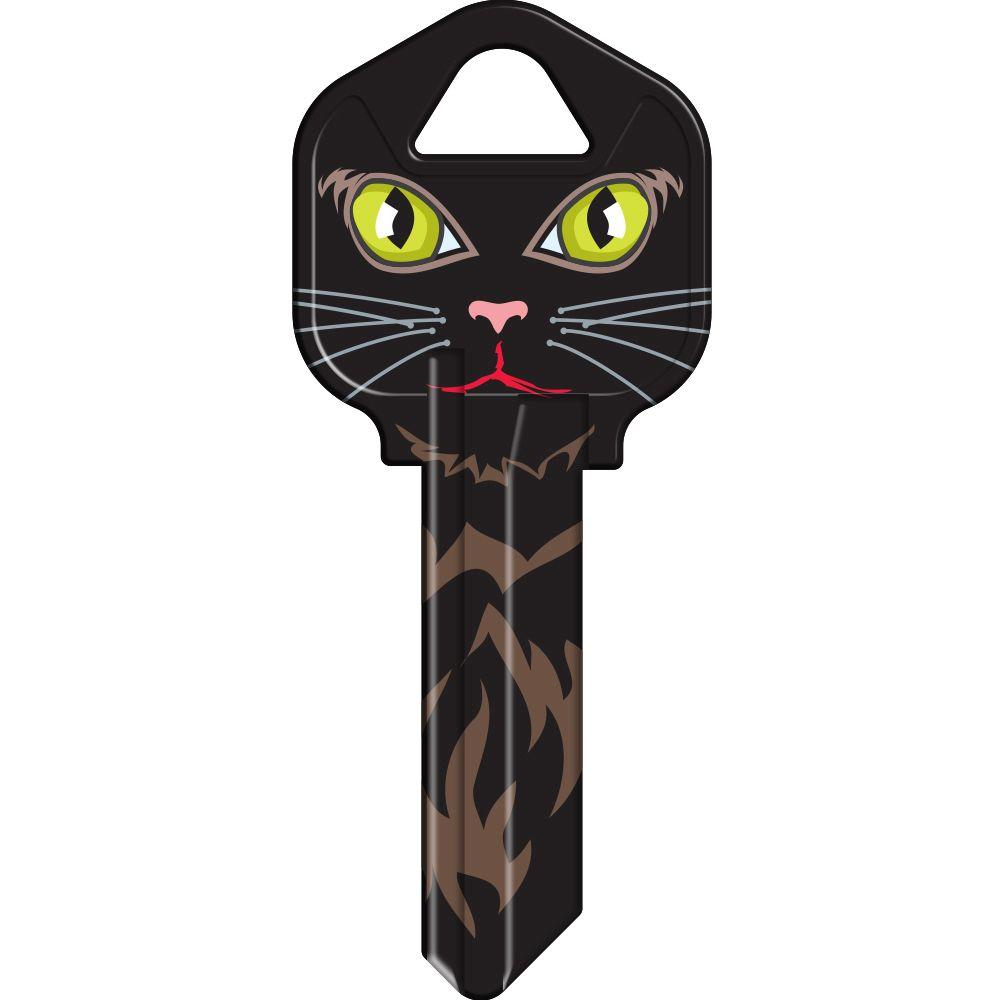 HRs. The poor Banana Slugs likely mashed as hard as they've mashed all season (7th in HRs) but it still wasn't enough against a locked in Kings squad, and they lost the HRs cat 25-17. That means 8 more runs for the Kings (the won Rs 60-48), at least 8 more and obviously more than 8 more RBIs for the Kings (they won RBIs 70-57), perhaps a slight OBP bump (the won OBP .363 to .357). Put it all together and you have two teams that had impressive offenses in Week 16 but yanno, one was more impressive. And so that one….won.
Assorted Musings Should I Feel Like Musin':  Haven't talked pitching in a Kings matchup so let's do that, shout out to a weirdly dominant streamed Steven Matz CG shutout for the Kings. Also shout out to the fact that mayyybe just maybe Trevor Bauer isn't the super-established ace Trevor Bauer likely thinks he is. I consider him a super-established whiny little bitch, however…
What's Next (Week 17):  ECF v. LL (9-7 v. 6-10)
                   
   RRF @ AI (7-8-1 @ 7-9)
Pacific Beach X-Rayz Rack Up A Shit Ton Of Strikeouts, Also Do Other Things Well In Big Beatdown of Astoria Isotopes  –  10-1-3
MVP:  Jose Ramirez  –  JOSE RAMIREZ SIGHTING. The X-Rayz have turned around an ugly start to the season but Jose has mostly been an afterthought even during said turnaround. That is up until July; 9 HRs in a month that has seen the X-Rayz go 3-0. If J-Ram keeps it going into the #BackyardBracket this team can make noise folks.  12/30, 7 Rs, 3 2Bs, 4 HRs, 9 RBIs, 2 SBs, .441 OBP     
LVP:  Mike Moustakas  –  More like Mike MOSTSUCKASS, AMIRITE? I hate that I'm dignifying that bad name joke, and also this was a real toss up between Mike and Khris (2/22, 2 RBIs), but ultimately we are going with Moustakas and with that shitty name joke and that is just how things are.  1/15, 1 R, .182 OBP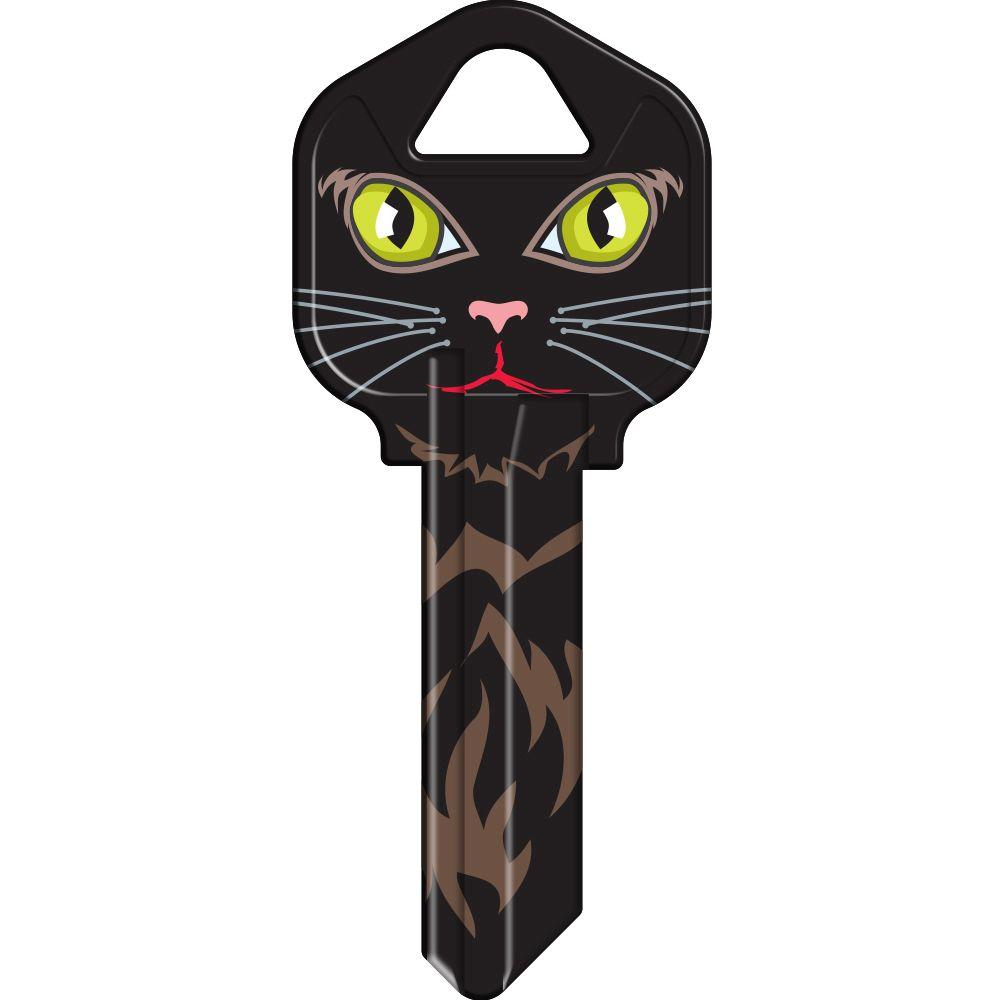 Strikeouts. In a week where the X-Rayz set a new and rather tough to top record in the Ks department, I guess I have to go with Ks here. Ever the Innovator Odom has really taken a shine to this whole "bulk reliever" craze because of course he has, but it's worth noting the EFFECTS here. The 'Topes rocked a 9.513 K per 9 in Week 16, better than the X-Rayz 9.217, but WHAT'S THAT MATTER when the latter team tosses 116.2 innings to your 84.2, THIRTY TWO MORE INNINGS THROWN on the Pacific Beach side. And that's how you set a Ks record and win the cat 119-89, and that's how you grab 11 wins, and usually there's a risk of ERA ruin but the 'Topes managed to suck more (X-Rayz won ERA 4.71 to 5.53), and that's how you get your doors relatively blown off (also only hitting like 6 HRs doesn't help) and get leapfrogged in the Backyard Bracket Standings.
Assorted Musings Should I Feel Like Musin':  Eight bulk relievers used by the X-Rayz in Week 16, not sure what his usual is but SEEMS LIKE A LOT… 'Topes were league-worst in Wk 16 in Runs, HRs, RBIs and I guess that's just what happens when Khris Davis is slumping HARD… Also a real rollercoaster of a season for Astoria, whom started out 0-5 then won 7 in a row and have now lost 4 in a row…
What's Next (Week 17):  PBX v. BBS (6-7-3 v. 5-10-1)
                   
   AI v. RRF (7-9 v. 7-8-1)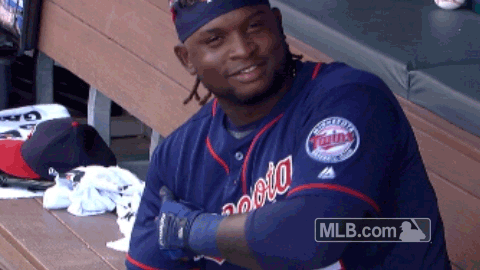 River City Bad Dudes Best A Super Invested Definitely Started Twelve Pitchers* Rojo's Renegade Force Squad  –  9-4-1
*one was an opener but beggars can't be choosers
MVP:  Miguel Sano  –  Miguel Sano is a fat turd (whoever had "turd" twice in Blog Bingo gets a prize) who strikes out too much and is probably a piece of shit, BUT he's mashing taters this season and mashed some taters in Week 16 and I guess that'sa ll the MVP of the week part cares about. Nice tie-in to the River City Mashers hidden in this paragraph, FAN SERVICE for longtime Backyard fans. The Doch Blog never delivered this sort of stuff, or any sort of stuff really. A totally Weak and Low Energy blogger. ANYWHO YEA MIGUEL SANO.   9/27, 6 Rs, 4 HRs, 11 RBIs, .379 OBP     
LVP:  Masahiro Tanaka  –  I mean, FOR FUCKS SAKE Masahiro. You get LVP of the Week cuz I'm not sure I've seen that many runs given up in quite some time. And it was against the Red Sawks so SHAME ON HIM.  3.1 IP, 12 ER, 4 Ks, 32.40 ERA    ***LVP OF THE WEEK***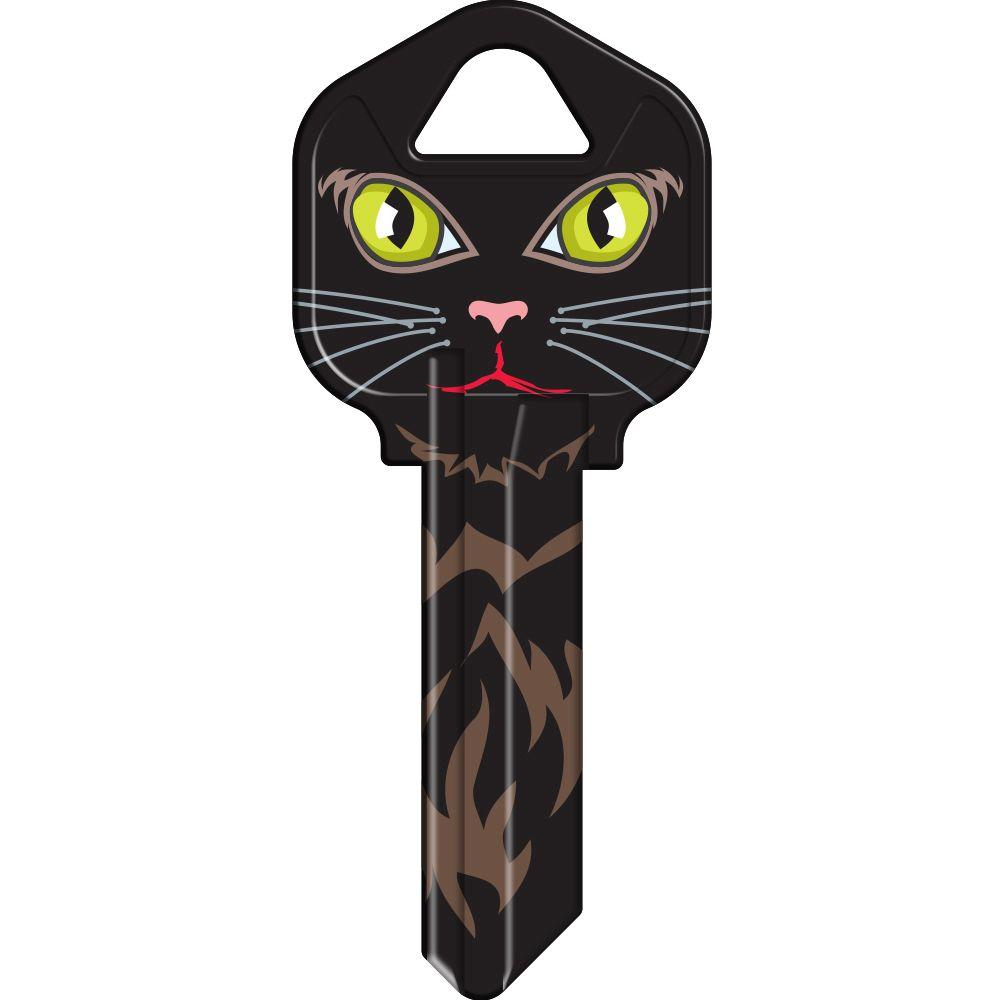 Holds. You lost AT YOUR OWN GAME ROJO. The Bad Dudes won Holds 4-1 and that isn't necessarily why they won the MATCHUP (the .342 to .311 OBP disparity probably more damning) but it IS necessarily all I want to talk about here cuz this matchup bores me.
Assorted Musings Should I Feel Like Musin':  Renegade Force perhaps making league history as the first team to knowingly (I think) start an "opener," THIS LEAGUE JUST GETS WACKIER AND WACKIER…
What's Next (Week 17):  RCBD @ LTBS (6-7-3 @ 15-1) *BBOTW*
                   
   RRF @ AI (7-8-1 @ 7-9)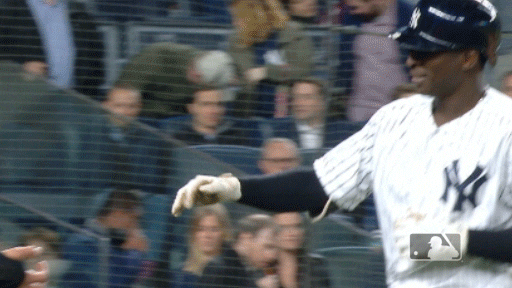 Lakehurst Leviations Continue DREAM SEASON, Notch Sixth Win At Ocean Gate Fishing Club's Expense  –  9-5-0
MVP:  Didi Gregorius  –  Both Didi and JD Martinez did real work in Week 16 (pretend Judge is JD in the GIF above) but Didi did slightly better work and fuck the sawks and so on and so forth.  11/26, 5 Rs, 4 2Bs, 1 3B, 2 HRs, 13 RBIs, .448 OBP     
LVP:  Francisco Mejia  –  On the opposite end of the spectrum, Mejia did the very opposite of work and contributed nothing but a few base hits and no wonder this goddamned owner always harrasses me about Gary Sanchez.  4/16, .294 OBP    
JROLLs:  Trea Turner (2, OGFC) ; Adam Eaton (1, LL)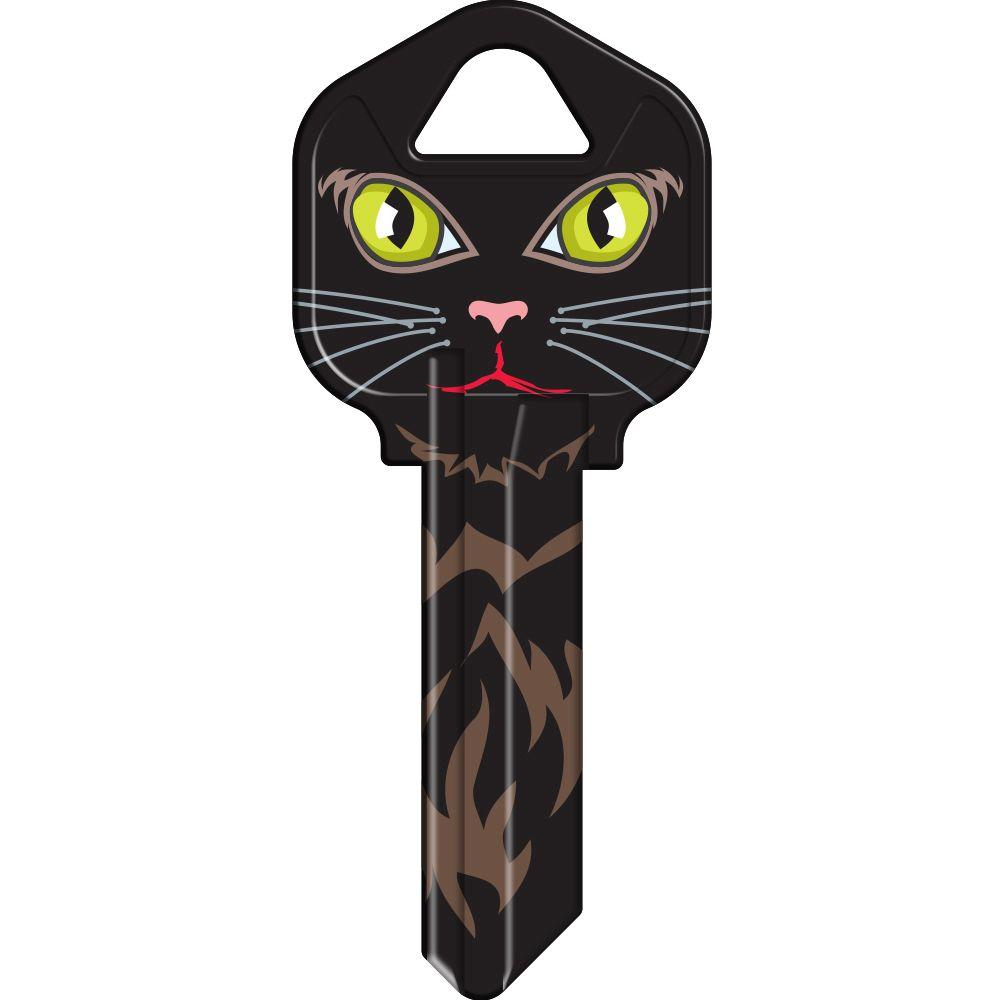 Triples. This matchup was tiiiiiiiight all over the place man, but it's always an unfortunate circumstance when your team musters more than one three-bagger and still loses the cat. And that was the case here so lets highlight Heroy sadness, two triples (AND ONE JROLL) out of the OGFC and they get bested by a Leviathans team that put up four despite the absence of Adalberto. Tough break kiddo. Other tough breaks include 1 "point" losses in SBs, QS, and Holds but this paragraph was about the triples so we are gonna STICK TO THE TRIPLES.
Assorted Musings Should I Feel Like Musin':  The Leviathans had 69 RBIs (nice.)… ALSO, with this victory the Leviathans have more wins in Year 3 than they had in Years 1 and 2 COMBINED (double nice.)(#TrustTheProcess)…
What's Next (Week 17):  LL @ ECK (6-10 @ 9-7)
                   
   OGFC v. IBB (8-7-1 v. 6-9-1)
2019 WEEK 16 BACKYARD BATTLE OF THE WEEK, SPONSORED BY THE 1985 CHICAGO BEARS' WEEK 13 DEFEAT
https://www.chicagotribune.com/sports/bears/ct-85-bears-dolphins-oral-history-spt-1129-20151128-story.html
Island Beach Bears Accomplish Everything They Needed To In 2019 Season, Slay The Lacey Township BackdoorSliderz Beast Fucking Finally (they are now allowed to go win the championship or whatever I guess*)  –  7-6-1
*jkjk we root against any and all back-to-back chamPEEN challengers 'round here, fuck them I want 'em bounced in Round 2..
MVP:  Edwin Encarnacion  –  Were there better performers in Week 16 both on the Bears and on other teams? I mean yea PROBABLY (definitely). But this was another performance in a long line of CLUTCH PLAYOFF PERFORMANCES (as far as I'm concerned I just won the playoffs) wherein Encarnacion, win or loss, gave us a heroic effort. In this case we needed doubles and he HEROICALLY contributed FIVE, 45% of his total heading into Week 16. Good. Man.  11/32, 6 Rs, 5 2Bs, 1 HR, 3 RBIs, .400 OBP     ***MVP OF THE WEEK/PROBABLY YEAR***    
LVP:  Alex Bregman  –  Bad week outta Breggy and a quiet week outta a few other ButtSliderz Starz in Week 16, it's almost like that's how baseball is supposed to work as opposed to having EVERYTHING GO YOUR WAY ALL YEAR LONG. Suck it, turds.  1/17, 3 Rs, 1 2B, 1 RBI, .238 OBP          
Bears Hitter Of Note:  Jonathan Villar heard rumors of other owners BALKING at requested returns (probably justifiably so) when those owners came asking about himand so he went out and had himself a week on them basepaths (10/33, 9 Rs, 1 2B, 2 HRs, 5 RBIs, 5 SBs, .361 OBP).
Bears Pitcher Of Note:  When you trade away all of your other good pitchers you're left with one good pitcher and then that good pitcher likely ends up your pitcher "of note" in these winning situations, and his name is Mike Clevinger (14 IP, 4 ER, 14 Ks, 2 QS, 2 Ws, 2.57 ERA).
BackdoorSliderz Hitter Of Note:  Lets all point at Cody Bellinger and laugh because he DIDN'T absolutely bludgeon me in Week 16 and perhaps he isn't Barry Bonds, which would be nice for me and my trade psyche (he's still really good and young and I regret that trade and that trade only)(I'll still trade any mothafucka)(4/18, 4 Rs, 1 2B, 2 RBIs, .333 OBP).
BackdoorSliderz Pitcher Of Note:  And just for FAIR and BALANCED reporting of the FACTS I'll not do the thing where I try and single out a bad performance here… Robbie Ray had double digit Ks in back-to-back starts so good for him, STILL LOST LOSER (12 IP, 5 ER, 21 Ks, 2 QS, 1 W, 3.75 ERA).
BBOTW BREAKDOWN
How many words does one owe history? When will enough be written about our triumphs in WWII, about the moon landing, about the moments that DEFINED civilization? Can enough words ever be written? I posit that they cannot, which is why this blog will fail regardless of how long I write about one of the greatest regular season victories (if not THE greatest) in Backyard history (and I intend to write a buncha words and they won't even be particularly interesting but THE WORD COUNT, oh the word count). Sure teams have gone on some runs, won some games in a row, even won some championships in a row 😉 . But has there ever been a team that remained undefeated this late into one of our regular seasons? No seriously I am asking. And IF SO, could that team have possibly been helmed by a more despicable owner than the one that currently presides over the Lacey Township BackdoorSliderz? This one I can answer myself:  no, for that would be impossible.
Comeuppance has been a long time coming for this team, a talented unit to be fair but one that also has been hashtag BLESSED with some lucky bounces in its day. I think they beat the Banana Slugs in a week when they had like a .270-something OBP, I think Fernando Tatis Jr. and Keston Hiura have had UNSUSTAINABLE BABIPs to begin their respective careers, I think this had to happen the way it happened. At the hands of your fearless, really at this point less-than-part-time, blogger (and perhaps part-time lover) because only HE would then chronicle the great moment in glorious detail. And only HE, thanks to his own human failings, would be able to perfectly set up a Sunday Night Scenario that quite frankly I didn't see enough applause for the in chat. Edwin Encarnacion is a BACKYARD TREASURE and he deserves your respect. Perhaps no player is more synonymous with their respective franchise, and obviously no player more perfectly epitomizes the GLORY DAYZ of back-to-back-to-back championships for this (once proud, now multiple times renamed) franchise, and now he has basically delivered a fourth championship. Feels like I've won the championship this season. You're all free to keep playing and do the whole "Backyard Bracket" thing but yanno…..whatever.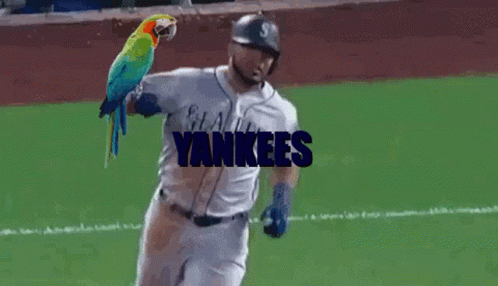 There was a time when I planned to break down each day of this HISTORIC VICTORY FOR THE ISLAND BEACH BEARS, but holy shit that sounds exhausting and its difficult enough to piece together the play-by-play just from Sunday. So yea with that caveat in place lets now get fucking pumped up and lets fucking LETS BREAK DOWN THIS HISTORIC MATCHUP'S HISTORIC SUNDAY, SHALL WE?! FUCK YEA LETS:
DAY 7 (Sunday, 7.28.19 Anno Domini)
The Island Beach Bears enter day 7 of their battle WEARY and sensing defeat. Things were lookin' kinda solid with the BackdoorSliderz offense scuffling, and then Saturday they uhh unscuffled. Categories as of Sunday AM were as follows (not because I think anyone wants to read this shit, but because I want to pump up this word count to up the obnoxious):
Runs – Bears lead 53 to 38
Doubles – Sliderz lead 14 to 12
Triples – Bears lead 2 to 0
HRs – Bears lead 11 to 9
RBIs – Sliderz lead 44 to 37
OBP – Sliderz comfortably ahead just take my word for it
SBs – Bears lead 7 to 4
Ks – Bears lead 80 to 69 (nice.)
QS – Bears lead 9 to 5
CGs – Bears haven't had one all goddamned year, surprised the ButtSliderz didn't grab one but yea this ended up 0-0
Ws – Tied 6 to 6
Saves – Sliderz lead 4 to 1
Holds – Bears lead 5 to 1
ERA – Sliderz lead like 2 something to 3 something
BEARS LEADING 7-5-2
This lead, this lead is a mirage and the Bears know it. For what you DON'T see up there, though certainly I had the room to note it, is the Bears have maxed out their starts by Sunday AM (and amassed a measly 80 Ks doing so) while the BackdoorSliderz would be trotting out four arms for the final day:  Kyle Gibson, Robbie Ray, Walker Buehler, and AARON NOLA. The last arm is of obvious added significance, it's an arm that already logged a start for the Bears earlier in the week and an arm they then traded away because dynasty is boring make some trades you pussies. It is also an arm that what was SUPPOSED TO BE starting only once in Week 16, was sort of important to me to avoid facing my sweet sweet Aaron in 2019. Alas he ended up getting bumped up to Sunday, and Lacey ownership did what Lacey ownership does best:  paid lip service to sitting him as some sort of courtesy or signaling of their high moral fiber but MERELY A SIGNAL, they were never gonna sit him WERE THEY (Bears ownership wouldn't have wanted that, but also was drinking at the time of the initial message so didn't really offer that opinion clearly one way or the other, so could Doch have even KNOWN what I wanted? Has he ever known what anyone else ever wanted? Has he failed to please everyone in his life?)?! ANYWHOM, ultimately Nola got the nod and that was the right move I wouldn't have wanted a bullet left in the chamber.
SO, and stay with me now, what we have at this point is the Bears BASICALLY expecting Ks and Ws to go to Lacey, with a possibility of them going 4-4 in QS and tying that up as well….. things seemed bleak to say the least. As I alluded, the BackdoorSliderz had already used a 16 run/4 double/5 HR/15 RBI/.460 OBP Saturday to overtake OBP and generally signal the end times for the Bears upset chances. Or so we thought :))))))))))))))) It would require a good amount of good Lacey pitchers pitching poorly for the Bears to retake the ERA lead, and we had already done everything in our power to try and grab more Ks or more Ws or whatever by signing a buncha shitty SP-eligible relievers and treating it like BCS Sunday. And so at this point Bears ownership was on the beach not paying much mind to these sorts of longshot hypotheticals, is what I'm saying.
FAST FORWARD to late afternoon and suddenly the BackdoorSliderz pitching staff has managed to blow the ERA lead by pitching jusssttttt poorly enough, suddenly the Bears are told they're clinging to a 7-6-1 advantage, and even more suddenly they must reckon with all of those fucking random SP relievers they brought in to try and grab additional pitching stats. Pretty quickly it was assumed by Bears ownership, QUITE CORRECTLY (because they're actually super smart and stuff), that those shitty relievers were shitty for a reason and so they would fuck said Bears and return said ERA lead and the overall lead with it probably upon their first opportunity…. almost instantaneously Colin McHugh did just that. Around the same time just GENERAL LIFE LIVING, the sort of thing Rojo has tried to tell us all about from high atop the mountains, prevents Bears ownership (me) from subbing out a resting Nicholas Castellanos for a not-resting Hunter Renfroe. By the time of this realization the DEFINITELY EXPECTED Luis Perdomo earned runs have also crossed the plate and we've officially written off ERA (evidently we shouldn't have we only lost 3.90 to 3.86, I would have been haunted by Josh Tomlin if things broke poorly), now turning the attention to catching the evil LTBS RBIs and/or 2Bs while also defending a slim lead in HRs.
This is gripping stuff, one would imagine, if both owners were both scowling MLBTV and furiously refreshing computer screens to follow along. And in fact for the sake of this blog post we are going to say that Doch definitely was doing precisely that, in some sad little Lacey cave like the ones people used to pretend Bin Laden was hiding in. There's some parallels there. At some point we know the LTBS closed the HR gap to one (thanks to Soto or Conforto or Santana or one of those fucks, but this isn't their story) and at some other point we now know Marcus Semien and Danny Santana have homered to give the #DongsCat it's final margin of victory for the Bears. Small margin, small total overall but it's not the size that counts. So ALL GOOD ON THE HRs, hooray for the good guys. RBIs inched close (another size pun in here somewhere), some thanks due to Travis D'Arnaud for contributing 7 RBIs for the IBB while only bequeathing 2 RBIs for the LTBS (he's filled in admirably for Gary Sanchez), but ultimately despite our best efforts bad things sometimes happen to good people and good things sometimes happen to bad people (see Doch's 2018 season) and so we couldn't close the gap there. And by "best efforts" I mean we couldn't close the gap because Hunter Renfroe hit a grand slam on the fucking bench, with plenty of space for him in our not-being-used RF slot.
SO RBIs weren't working out and its down to doubles to slay the beast. Ozzie Albies knocked the lone Sunday double for Lacey, the very excellent Danny Santana and Jonathan Villar and Travis D'Arnaud chipped in their own two-baggers for Island Beach (left out a "two-bagger" joke about Dorothy here), and by the time the dust had settled we arrived at a very unsatisfying 6-6-2 tie heading into Sunday Night Sawks-Yanks. This could not stand, however….
SUNDAY NIGHT SAWKS-YANKS (7.28.19 Anno Domini)
The Yankee-loathing Lacey outfit has no participants in the Sunday night game, the Bears have ❤ Edwin Encarnacion ❤ and Aaron Hicks. The Bears need one double or 4 RBIs to finally hand the BackdoorSliderz a much-needed loss in 2019, and the presence of Edwin in this equation has them quietly CONFIDENT….. so confident they are not watching the game one bit, and are going to Mellow Mushroom. I think I'm back from Mellow by the time Edwin evidently smokes a single in the top of the 5th…..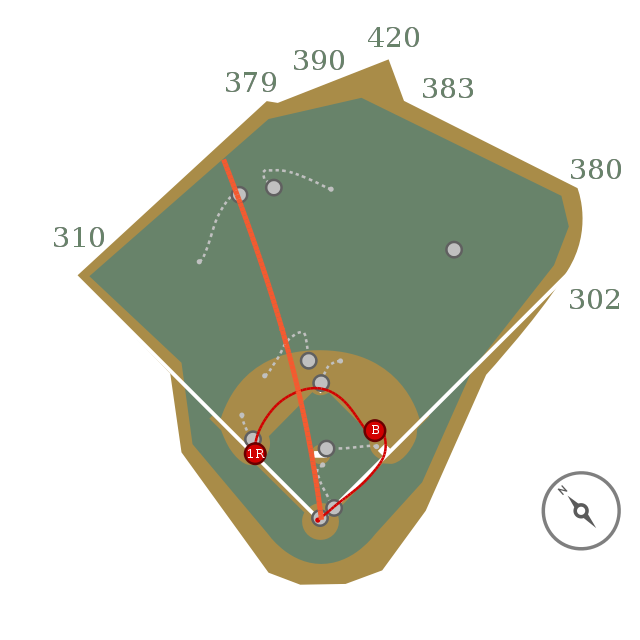 ….that moves Hicks to 3rd and no farther, so yea running out of innings but WE ARE FINE EVERYTHING IS FINE. STILL. I think at this point I'm "watching a documentary" on PFAS, Edwin would not betray this organization.
In the 7th inning, we get what we need and by "we" I mean THE LEAGUE AS A WHOLE needed:
Encarnación doubled to left center, Hicks to third.
PITCH
TYPE
MPH

1 

Double
Slider
82
Print that out and smoke it folks, I'm giving you PITCH TYPE and everything here. I will also note the double was hit off of Bad Dudes RELIEVER PHENOM EXTRAORDINAIRE Darwinzon Hernandez.
Bears win 7-6-1
Bears win self-proclaimed "last week they give a shit about winning"
Undefeated season for the ButtSliderz is off the table, which is a bit of a relief I think we can all agree
Bears now have to keep giving a shit until formally eliminated from playoffs (TAKE NOTE ROJO), which isn't a relief per se but is still FINE ITS FINE we can pay attention to a fantasy baseball league while still existing in the world (TAKE NOTE LOBMAN, OR MAYBE ROJO, I am forgetting the gripes at this point)….
The league is saved and you're all fucking welcome
Look I know this one was a bit of a coin flip in several spots and we just have easily could have allowed the LTBS to escape with yet another win and they're still the current favorites (though clearly I think we've exposed some kinks in the armor, not gonna tell anyone what they are it's a big secret) for that OTHER champeenship still to be awarded. I know all these things. But I also know that this shit needed to end and so Edwin ended it, and so nobody ever ask me if he was available to trade for ever again. Notta one of youz. ANYWAYZ Week 17 has the Bears still in the bracket hunt weirdly enough, so they're gonna head to Ocean Gate and try and beat those jackasses. And if they don't at least they beat this jackass. This jackass and his ButtSliderz take on the River City Bad Dudes in our Backyard Battle Of The Week.
What's Next (Week 17):  IBB @ OGFC (6-9-1 @ 8-7-1)
                   
LTBS v. RCBD (16-1 v. 6-7-3) *BBOTW*
Had to get one more in ^