MVP:  Yasmani Grandal  –  The QTCMW put up a season-best .3844 OBP in this one and this guy helped that a good bit, and also I have just always dreamed of the day that I could highlight Yasmani Grandal for the Bonerz since I just GAVE HIM AWAY to him for like Dan Vogelbach or something. The truth of the matter is most of the MW offense was cruising last week so not really any wrong answers here. But this is real nice production out of the C spot. So it goes to him.  8/24, 5 Rs, 4 2Bs, 1 HR, 11 RBIs, .448 OBP
LVP:  Domingo Santana  –  NO WONDER I was asked if I still had interest in Domingo. No. Wonder.  0/16, 2 Rs, .158 OBP
Morning Wood Hitter Of Note:  A real fine showing from Lorenzo Cain as he continues to be solid ever since he was freed from the 'Topes roster (8/21, 9 Rs, 2 2Bs, 1 HR, 2 RBIs, 1 SB, .500 OBP).
Morning Wood Pitcher Of Note:  How bout Julio Teheran all of a sudden being good again for a hot sec here all of a sudden (13 IP, 1 ER, 15 Ks, 2 QS, 1 W, 0.69 ERA) (nice).
BackdoorSliderz Hitter Of Note:  Seems like the Brew Crew had some fine hitting last week, if we are just going off Cain and Travis Shaw here (17/19, 6 Rs, 1 2B, 2 HRs, 3 RBIs, .600 OBP).
BackdoorSliderz Pitcher Of Note:  Kinda wish I was asked about Blake Snell instead because he looks like he might have something cookin' here, cookin' with gas (13.1 IP, 2 ER, 15 Ks, 2 QS, 2 Ws, 1.35 ERA). (UPDATE: Andddd now he is an X*Ray)
Week 4:  MW  @ X*Rayz (1-2 @ 1-2),
                Sliderz v. Bad Dudes (1-2 v. 2-1)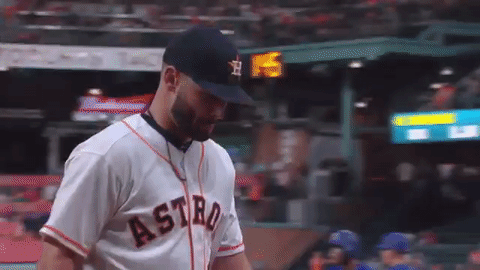 MVP:  Lance McCullers  –  The Babadooks swept the pitching cats 7-0 and ALSO I will take every opportunity I can to search for a Lance McCullers GIF so HERE IT IS. Really I wanted to find a nasty pitch movement one but this one works better. Lance was quality last week but he probably remains a roller coaster. The highs are really pretty though.  13 IP, 2 ER, 14 Ks, 2 QS, 2 Ws, 1.38 ERA
LVP:  A Tie Between Andrew Triggs And Lucas Giolito And Gregory Heroy  –  Is it better to give up 6 ER in 1.1 IP or 9 ER in 2 IP? That is the question I pose to you the readers. Because both end up giving you an ERA of 40.50.  Triggs:  1.1 IP, 6 ER, 40.50 ERA  Giolito:  2 IP, 9 ER, 1 K, 40.50 ERA  Heroy:  -6 mWAR for letting Giolito start/keep his roster spot.     ***LVP(s) OF THE WEEK***
Babadooks Hitter Of Note:  Rhys Hoskins was better but I wanna give a shoutout to Lewis Brinson instead and hope it motivates him to keep it going against non-Milwaukee opponents, and to maybe STOP STRIKING OUT SO FUCKING MUCH (3/12, 3 Rs, 3 HRs, 6 RBIs, .308 OBP).
Babadooks Pitcher Of Note:  Also can't celebrate this Week 3 victory without celebrating the life of Mike Clevinger and that sweet sweet Saturday CG shutout he gave us (9 IP, 0 ER, 3 Ks, 1 QS, 1 CG, 1 W, 0.00 ERA).
OGTFC Hitter Of Note:  Mookie Betts, it unfortunately must be noted, is on a bit o' a tear and thankfully the Sawks rewarded it with a Sunday day off (8/20, 7 Rs, 1 2B, 4 HRs, 4 RBIs, .478 OBP).
OGTFC Pitcher Of Note:  I mean I guess a postive is Josh Hader is becoming a nice bullpen weapon, I guess (5 IP, 0 ER, 7 Ks, 2 Saves, 0.00 ERA).
Week 4:  Babadooks @ RRF (1-2 @ 2-1) 
                OGTFC @ Isotopes (1-2 @ 2-1)
MVP:  Paul DeJong  –  The Isotopes donged 20 dongs which is a pretty high number and also knocked in 73 which is a RATHER high number and interestingly enough nobody had more than 3 dongs, and nobody had dougle digit RBIs or anything (8 was the high man). But that high man was also Moose and fuck him no way I am giving him two MVPs in a row. So DeJong DeGetsit.  6/20, 4 Rs, 2 2Bs, 3 HRs, 7 RBIs, .364 OBP
LVP:  Ian Desmond  –  Ian Desmond continues to be SO DISAPPOINTING, as a guy that went to Colorado and decided to start hitting groundballs and groundballs only (fucking 72.7% GB rate this season, 62.7% last season). I know this from firsthand experience clearly. Fuck that guy.  0/15, 2 Rs, 1 RBI, .118 OBP 
'Topes Hitter Of Note:  I guess I can note Mike Moustakas here though, the dick (10/33, 3 Rs, 2 2Bs, 3 HRs, 8 RBIs, .324 OBP).
'Topes Pitcher Of Note:  The 'Topes also grabbed a Dallas Keuchel CG for good and unnecessary measure, I hope the universe takes away a CG from him in a matchup when he needs it more and that is how it works (14 IP, 3 ER, 12 Ks, 2 QS, 1 CG, 1 W, 1.93 ERA).
X*Rayz Hitter Of Note:  One thing you can say after 3 is that the defending champs have TO THIS POINT been managing some solid pop, and thank god part of that is Jose Ramirez getting back to being a beast (9/22, 4 Rs, 4 HRs, 5 RBIs, .480 OBP).
X*Rayz Pitcher Of Note:  Let's highlight Chris Archer finally mustering a QS in his fifth start of the gotdamned season, cuz get it together Chris (6.2 IP, 3 ER, 5 Ks, 1 QS, 2.70 ERA).
Week 4:  Isotopes v. OGTFC (2-1 v. 1-2)
                X*Rayz v. MW (1-2 v. 1-2)
MVP:  Patrick Corbin  –  Patrick Corbin out here dominating and I did NOT see this coming. You could say he has been a real FORCE. See what I did there. But yea Corbin put up a monnnnnster two start week, what more can I say that Brian probably hasn't already said. See line here.  15 IP, 2 ER, 19 Ks, 2 QS, 1 CG, 2 Ws, 1.20 ERA     ***MVP OF THE WEEK*** 
LVP:  Zack Cozart  –  I feel like last week I may have declared that Cozart was proving his '17 wasn't a fluke but now I have decided that you have REGRESSED sir, based off this particular week long sample size. Or maybe it was Scooter Gennett, who can fucking keep track of these white one year wonders on the RRF. But Zack was bad in Week 3 is what I am saying.  1/17, 1 RBI, .158 OBP
Slugs Hitter Of Note:  It is with great trepidation that I announce that Trevor Story had himself a JROLL last week 😦  (9/20, 2 Rs, 2 2Bs, 1 3B, 1 HR, 6 RBIs, 2 SBs, .560 OBP).
Slugs Pitcher Of Note:  I'll tell you who was also a FORCE, Luis Severino was also a force as the Slugs got some sexy two-start weeks outta two of their hurlers I have noted them both pay attention (13 IP, 1 ER, 14 Ks, 2 QS, 2 Ws, 0.69 ERA) (Nice).
RRF Hitter Of Note:  George Springer was good in Week 3 but I can't really figure out a way to compare Springer to Yu Darvish week to week (Yu Darvish was bad in Week 3) and why can't we just move on from trades anyways (I am part of the problem) so Springer was good and that is all that matters right now (9/28, 10 Rs, 5 2Bs, 1 HR, 8 RBIs, .412 OBP).
RRF Pitcher Of Note:  Hey quick FYI, old ass Johnny Cueto has only given up 1 ER all season (13 IP, 0 ER, 18 Ks, 2 QS, 1 W, 0.00 ERA).
Week 4:   Slugs @ Warriors (2-1 @ 2-1, BBOTW )
                 RRF v. Babadooks (2-1 v. 1-2)
2018 WEEK 3 BACKYARD BATTLE OF THE WEEK, SPONSORED BY MARIJUANA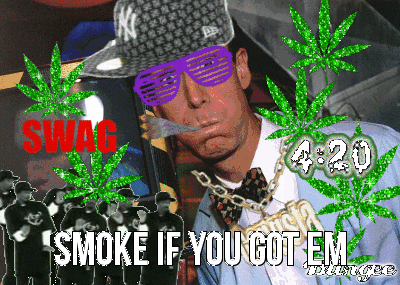 MVP:  Manny Machado  –  MANNY HAVE YOU A WEEK. Manny was somewhat not great for stretches of 2017 but last week he was great, and in 2018 he has been great. And he is a great player. The Yankees should look to acquire this young fella.  11/22, 7 Rs, 2 2Bs, 5 HRs, 8 RBIs, .560 OBP
LVP:  Yu Darvish  –  I dunno I guess it has to be Yu, the Warriors got outclassed in the pitching department which is rare BUT HAPPENS and SOMEONE SHOULD BE HELD RESPONSIBLE and I guess it can be Yu Darvish. A couple guys didn't have great batting lines but none so egregiously bad that they stood out, even Sano made one of his two hits leave the yard. So yea, Yu get what Yu deserve Yu.  4.2 IP, 5 ER, 4 Ks, 9.54 ERA
Bad Dudes Hitter Of Note:  It's amusing how often I look at a box score and realize I gave a guy the LVP the week before and now he out here balling, ALMOST AS IF OVERREACTING TO SMALL SAMPLES IS SILLY OR SOMETHING, but yea to that point Nomar Mazara didn't get any counting stats in Week 2 but got some in Week 3 (8/24, 5 Rs, 1 2B, 2 HRs, 7 RBIs, .385 OBP).
Bad Dudes Pitcher Of Note:  Sean Manaea no hit the Red Sawks fuck yeaaaaaaa, I believe I questioned Manaea's ability to put it together when the Dudes traded for him and I apologize Sean (9 IP, 0 ER, 10 Ks, 1 QS, 1 CG, 1 W, 0.00 ERA).
Warriors Hitter Of Note:  On the bright side, Warriors fans, Javier Baez that mothafucka has arrived (12/25, 7 Rs, 3 2Bs, 1 3B, 3 HRs, 9 RBIs, .480 OBP).
Warriors Pitcher Of Note:  And I guess I am just gonna sit here and point out Dylan Bundy lines all season long cuz it just seems SILLY to me that the Warriors just picked him up off waivers last August like they even needed him and he's out here pitching better than anyone else on the staff (6 IP, 1 ER, 9 Ks, 1 QS, 1 W, 1.50 ERA).
BBOTW BREAKDOWN
This one got BBOTW because Ryan and Lobman are FRIENDS TURNED FOES. Jk they are still just friends, but it seemed like two strong teams and they both put up fairly strong numbers. I believe this matchup like most matchups was up for grabs Saturday and Sunday however, Saturday things went a little topsy turvy for the Warriors. Neededing a strong pitching day, kinda their thing yanno, they pitched to a 6.55 ERA across four starts (Stephen Strasburg the only QS, Paxton, Darvish, and a random Kyle Gibson appearance all dragging down the ERA [to be fair Kyle was the best of those three]). Meanwhile on the Bad Dudes side of things you have Sean Manaea no hitting the Red Sox which did NOT do Garden State any favors. Sunday there was still a pulse but it would require a lotta dongs, an ERA correction, and some saves for the Warriors and they really got none of the three. Their 2 Sunday HRs were matched by Manny Machado all by his lonesome. Overall both teams looked tough but the Bad Dudes eded the Warriors 4-3  in the hitting cats, and more impressively took care of business in the pitching cats to the tune of 5-2. The CG helps, and it seems like the Ws and QS were not quite falling for the Warriors in Week 3, but give the Dudes credit as they grabbed 8 a piece in those cats and out-ERA'd the team that still leads the league in ERA. Also the CG helps, as those always do. I love those things as a cat even though I tend to never get them. But this isn't about me.
In Week 4 the Bad Dudes head down to Ocean County's DEEP SOUTH to take on the Lacey Township BackdoorSliderz, Lacey has lost two straight after winning their 2018 opener. Meanwhile the Garden State Warriors will grab BBOTW status once again when they host the Barnegat Banana Slugs, the only matchup pitting two of the five 2-1 teams against one another.
Week 4:  Bad Dudes @ Sliderz (2-1 @ 1-2)
                Warriors v. Slugs (2-1 v. 2-1, BBOTW)