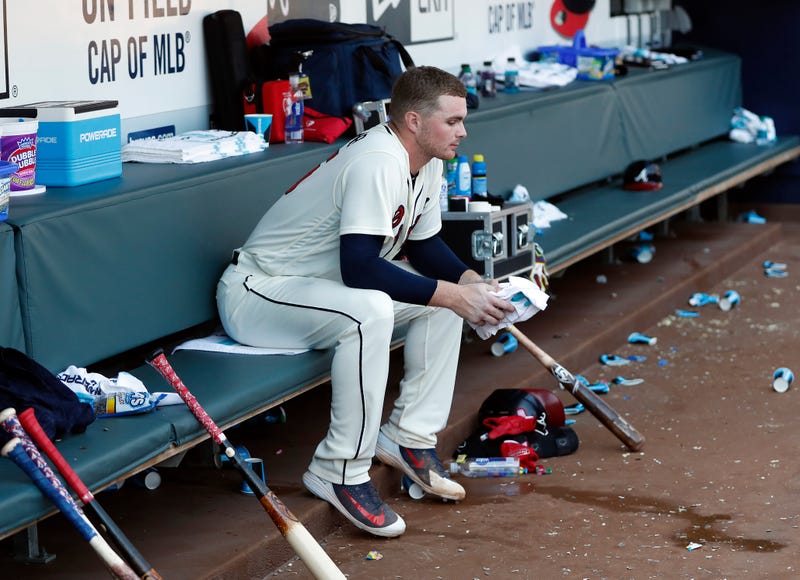 MVP:  Mike Trout  –  Mike Trout is a very talented piece of driftwood, only with less personality than an actual piece of driftwood.  7/19, 7 Rs, 2 2Bs, 3 HRs, 7 RBIs, 4 SBs, .594 OBP     ***MVP OF THE WEEK***        
LVP:  Kyle Seager  –  Dirty little secret here but uhhhh Kyle Seager has had a down year and fuck him for it.  2/18, .158 OBP     ***LVP OF THE WEEK***       
OGTFC Hitter Of Note:  Trea Turner PROBLEMATIC and also fucking lame JROLL (7/28, 4 Rs, 1 2B, 1 3B, 1 HR, 3 RBIs, 2 SBs, .276 OBP).
OGTFC Pitcher Of Note:  Luis Castillo put it together for one week and perhaps one week only, but I'm rooting for the kid (12.1 IP, 1 ER, 14 Ks, 1 QS, 1 W, 0.73 ERA).
BackdoorSliderz Hitter Of Note:  Gregory Polanco LESS PROBLEMATIC JROLL (10/27, 5 Rs, 2 2Bs, 1 3B, 1 HR, 4 RBIs, 3 SBs, .414 OBP).
BackdoorSliderz Pitcher Of Note:  Someone please liberate Jacob deGrom from his fresh hell of being unable to buy a fucking win (15 IP, 5 ER, 15 Ks, 2 QS, 3.00 ERA).
Week 17:  OGTFC v. X*Rayz (5-9-2 v. 7-9)
                   Sliderz @ RRF (7-9 @ 8-7-1)
MVP:  Jonathan Schoop  –  I honestly nearly forgot Jonathan Schoop was alive. Honest to god. So that is how THAT particular season is going for that particular player, and the Orioles at large. Nice week however.  11/29, 6 Rs, 1 2B, 5 HRs, 13 RBIs, .379 OBP
LVP:  Ian Happ  –  Anddd Ian Happ is still alive as well, and I am hesitant to criticize any Bonerz players with a Bonerz matchup staring me in the face. A boner staring me in the face.  4/19, 1 R, 1 2B, .286 OBP     
Banana Slugs Hitter Of Note:  Salvador Perez stays giving the Slugs these little weeks where the power is clicking and that is HELPFUL outta the C position, surely they are hoping he saves one for the postseason (12/29, 6 Rs, 1 2B, 4 HRs, 8 RBIs, .452 OBP).
Banana Slugs Pitcher Of Note:  Here's our real story Luis Severino was BAD twice in a row, lets all overreact to it just to trigger an equal and opposite overreaction to our overreaction (9.1 IP, 12 ER, 13 Ks, 11.57 ERA).
Morning Wood Hitter Of Note:  Yasmani Grandal UNDERRATED DEADLINE TARGET that nobody targeted except me for maybe a sec until I realized he's in a platoon (7/24, 4 Rs, 4 HRs, 6 RBIs, .370 OBP).
Morning Wood Pitcher Of Note:  Andddd Rick Porcello was good enough to grab 2 Ws on a Sawks team that just hands those shits out to their pitchers like Halloween candy (11.2 IP, 4 ER, 11 Ks, 1 QS, 2 Ws, 3.09 ERA).
Week 17:  Slugs v. Bad Dudes (11-5 v. 7-9) 
                   MW @ Bears (1-15 @ 8-8)
MVP:  Christian Yelich  –  Christian Yelich is really startin' to fill out that uniform out there in Milwaukee. Now there's a guy that looks good in the uniform.  15/29, 8 Rs, 3 2Bs, 1 3B, 3 HRs, 10 RBIs, .548 OBP     ***MVP OF THE WEEK***
LVP:  Eric Hosmer  –  Alternatively you have Eric Hosmer and his mostly EMPTY OBP, do fucking something Eric.  7/22, 2 Rs, .375 OBP          
Warriors Hitter Of Note:  Honestly not tooo many HONs here and yet they still cruised to a W and that is the scary part reader, Wil Myers had 5 doubles though (8/24, 1 R, 5 2Bs, 7 RBIs, .333 OBP).
Warriors Pitcher Of Note:  Jose Berrios is still quite damned good and don't let the smear campaigns of bitter former owners convince you otherwise (11.2 IP, 3 ER, 15 Ks, 1 QS, 1 W, 2.31 ERA).
RRF Hitter Of Note:  Paul Goldschmidt is back to mostly being good but WHERE ARE THE STEALS PAUL, cuz they ain't here (10/29, 5 Rs, 1 2B, 2 HRs, 6 RBIs, .441 OBP).
RRF Pitcher Of Note:  Masahiro Tanaka MasaHERO balled his way to a CG shutout, didn't help RRF win won't help the Yanks win the division but still nice to see (9 IP, 0 ER, 9 Ks, 1 QS, 1 CG, 1 W, 0.00 ERA).
Week 17:  Warriors v. Isotopes (13-3 v. 11-4-1, BBOTW)
                    RRF v. Sliderz (8-7-1 v. 7-9)
MVP:  Matt Chapman  –  And so now someeee fuckin how someeee fuckin way the Bad Dudes are threatening to drag their carcasses back into the playoffs, and so it is only fitting that I reward Matt Chapman for a nice performance. Matt Chapman is an LVP STAPLE but this week he was not LVP, he was MVP.  12/26, 9 Rs, 2 2Bs, 2 3Bs, 3 HRs, 6 RBIs, .548 OBP     
LVP:  Matt Olson  –  Alternatively you have the lesser Matt in Matt Olson, a disappointment to himself and anyone that's ever dared to love him in Week 16. I mean maybe he wasn't that bad but he also wasn't that good and I wanted to go with the Matts thing.  5/28, 3 Rs, 1 2B, 1 RBI, .281 OBP
Bad Dudes Hitter Of Note:  Jose Abreu also a nice lil week (10/28, 7 Rs, 2 2Bs, 3 HRs, 7 RBIs, .419 OBP).
Bad Dudes Pitcher Of Note:  HUH HOHHHHHH Carlos Rodon sighting, now I have seen it all ladies and ladies (I only write for the ladies I'm like Californication) (15.1 IP, 4 ER, 14 Ks, 2 QS, 1 W, 2.35 ERA).
Isotopes Hitter Of Note:  Khris Davis dinged 5 dongs but the reallll hitter of note is Aaron Judge and his potentially troublesome wrist injury, could SAP the power I say (3/13, 2 Rs, .400 OBP).
Isotopes Pitcher Of Note:  Tyler Skaggs LITERALLY the only pitcher on the 'Topes I find interesting now that Tyler Anderson is gone, let's look at the Skaggs Line (6 IP, 1 ER, 9 Ks, 1 QS, 1 W, 1.50 ERA).
Week 17:  Bad Dudes @ Slugs (7-9 @ 11-5)
                    Isotopes @ Warriors (11-4-1 @ 13-3)
2018 WEEK 16 BACKYARD BATTLE OF THE WEEK, SPONSORED BY THIS FRIGHTENED RABBITS SONG THAT I'M REMINDED OF NOW THAT MY FOOT'S ALL FUCKED (RIP SCOTT HUTCHINSON)
https://www.youtube.com/watch?v=-YJNFGc2Xxc
MVP:  David Fletcher  –  NO IDEA who David Fletcher even is but I mean shit, he helped the X*Rayz win Runs and 2Bs give the man his gold star.  10/26, 5 Rs, 4 2Bs, 3 RBIs, 2 SBs .433 OBP
LVP:  Scott Kingery  –  UNFORTUNATELY I am far more familiar with Scott Kingery, a poor man's David Fletcher if you will. Scott Kingery is going to suck precisely until I cut him.  3/18, 1 R, 1 2B, .167 OBP     
X*Rayz Hitter Of Note:  Just wanna point out Jose Ramirez scored 5 runs and stole 3 bases without getting a single goddamned hit, not sure I've seen this particular line yet in all my years o' bloggin' (0/15, 5 Rs, 3 SBs, .360 OBP).
X*Rayz Pitcher Of Note:  Not gonna CELEBRATE known Problematic Person Sean Newcomb so instead gonna highlight Marco Gonzales, whom danced into and out of danger all Sunday long but preserved the ERA lead that seemed important at the time (6 IP, 2 ER, 7 Ks, 1 QS, 1 W, 3.00 ERA).
Bears Hitter Of Note:  Rhys Hoskins was certainly eyeballin a matchup MVP but ya gotta win for that Rhys, ya gotta win for that (10/29, 7 Rs, 2 2Bs, 5 HRs, 9 RBIs, .424 OBP).
Bears Pitcher Of Note:  And the Bears had realllll difficulty tossing even a single QS in Week 16 and what better way to illustrate that then to point out Aaron Nola did not toss a QS (5 IP, 3 ER, 5 Ks, 5.40 ERA).
BBOTW BREAKDOWN
WELL PHEW. Not that the Bears don't want to miss the playoffs but the Bears also didn't want to formally eliminate the X*Rayz so that was a bit o a bind. But they did not, and this isn't about them this is about the X*Rayz STAYIN' ALIVE. They did so by doing just enough overall, 3-3-1 deadlock in the hitting cats but a 3-1-2 advantage in the pitching cats for a sort of ho hum but NEEDED victory. Honestly I don't think anything was that exciting, ERA hung in the balance a bit on Sunday but not only did the X*Rayz end up slightly more mediocre than the Bears there but they also added 3 Sunday Saves (to 1) to tie that cat. And that was how this one went down. An uninspired review of an uninspired performance.
In Week 17 the Mission Valley X*Rayz will attempt to STAY CLIMBIN' towards a berth in the #BackyardBracket, they probably need to win out but are certainly aware of that. On the flip side the Bell Road Bears will attempt to halt a season high 3 game losing streak in a matchup with the HILARIOUSLY 1-15 QTC Morning Wood. They do not deserve to have just one win and maybe that sort of thing evens out this week, that would be bad for a Bears team that no longer feels like a safe bet for postseason play. THERE'S ONLY LIKE THREE SAFE BETS FOR POSTSEASON PLAY.
Week 17:  X*Rayz @ OGTFC (7-9 @ 5-9-2)
                   Bears v. MW (8-8 v. 1-15)