2017 RECORD:  10-6-2
KNOW YOUR OWNER/KNOW YOUR TEAM!:  BRIAN! OWNER MOST LIKELY TO BITCH IN THE CHAT ABOUT DL SPOTS OR WHATEVER OVER SEVERAL PARAGRAPHS! OWNER MOST LIKELY TO GIVE A MAN HIS WORD ON A START LIMIT IN AN EXTENDED WEEK AND THEN GO BACK ON SAID WORD! OWNER I LOVE ANYWAYS! So that's Brian. As for the Slugs, they put together an interesting and dare I say impressive season in 2017, going 10-6-2 despite putting up alllll the power numbers of an X*Rayz type team with none of the the speed numbers. So that I declare a bit of an anomaly, but the Slugs certainly had some solid win numbers AND PERHAPS some solid luck on balls in play so to speak and there they were with the second seed and a bye heading into the 2017 playoffs. Lost in the second round to the eventual champs but that is life and don't I know it. And now 2018 is upon us. BEST OF LUCK TO BRIAN IN THE UPCOMING SEASON!
KEY ADDITIONS!:  2B Whit Merrifield, LF Eddie Rosario, RF Yasiel Puig, 3B Eugenio Suarez, RP Wade Davis, RP AJ Minter, SP Alex Reyes perhaps, 3B Vlad Guerrero Jr. in due time.
KEY SUBTRACTIONS!:  CF Adam Eaton, LF/CF Starling Marte, SP Jake Arrieta, RP Zach Britton I guess eventually maybe. 
THE HITTERS!:  Josh Donaldson is another year older and dealt with some injury woes last year but look at that man up there, he is a baseball murderer and that should not change. Joining Josh as another guy good at hitting baseballs is 2B Jonathan Schoop, fresh off a 32 HR season and yea he seems like a damn fine young 2B. I also love me some Eugenio Suarez, if he stays on the Slugs all season he might provide some nice returns as a recent FA pool pickup. And Eugenio signals my attempts to steer this paragraph with a series of ????????????????? Tommy Pham can he keep it up????? Ryan Zimmerman can he stay healthy????? Jake Lamb will he be the poster boy for humidor-related regression?????? Trevor Story????? Whit Merrifield????? Eddie Rosario?????? Yasiel Puig?????? What all of these guys are preparing to provide can be summed up as a bit of a mystery. EXCEPT, Whit. Whit I believe in. THE HRs REPORT:  ESPN projects EIGHT for 20+ dongs, but only two for 30+ (Schoop for 30, J-Don for 39). I view this offense as the one with the widest variance of possible outcomes is what my point is with all the goddamned question marks. Decent ceilings, probably some low floors, VOLATILITY FOLKS.
1-  Josh Donaldson
2-  Tommy Pham
3-  Jonathan Schoop
4-  Ryan Zimmerman
5-  Jake Lamb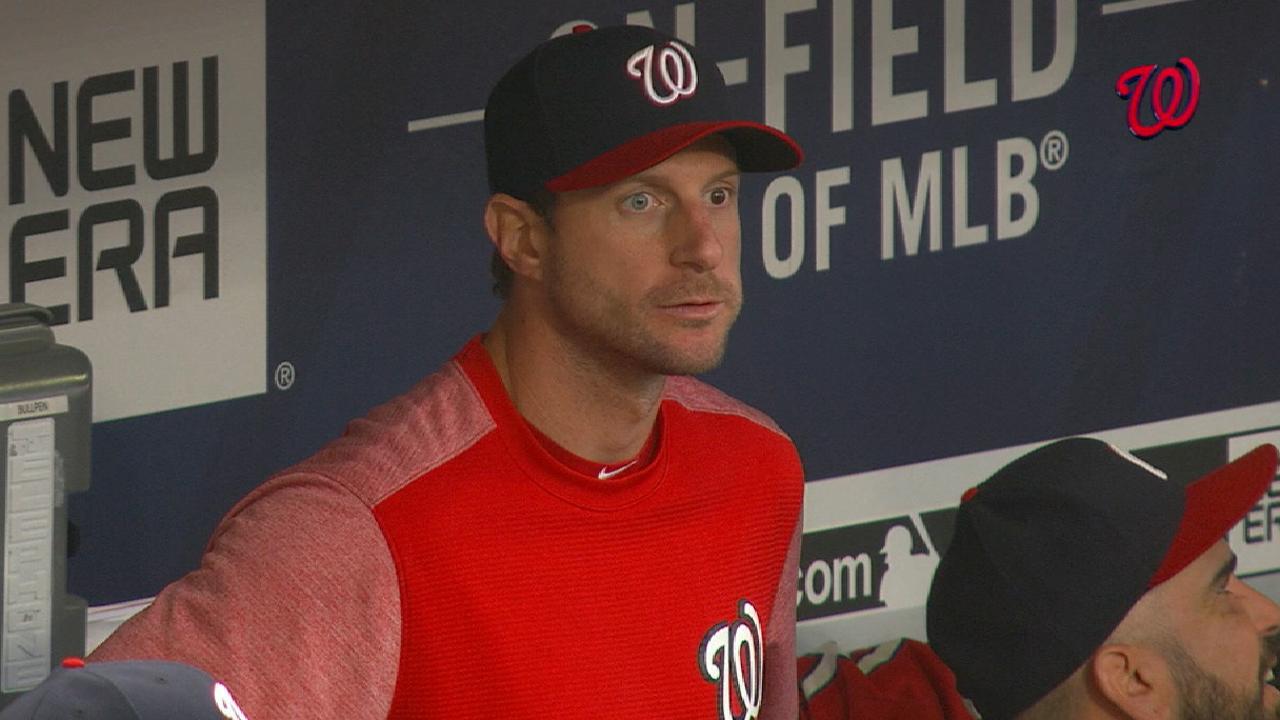 THE PITCHERS!:  Max Scherzer, the fucking lunatic above, remains goddamned dominant and prrrrrobably has leapfrogged Kershaw for top fantasy ace at this point (Kershaw's back and such and such). Scherzer is pretty much the FACE OF THIS FRANCHISE at this point, and deservedly so. Behind him you have Luis Severino forcing Brian to have impure thoughts about buying Yankees hats and shit, Severino broke out in 2017 but has the skill set to back it up HE GOOD. After that, OH NO MORE QUESTION MARKS. Jon Gray is a young hurler with nasty stuff but can he overcome his terrible home park???? Charlie Morton is all of a sudden an excellent K guy and throwing harder than ever at 34, but I mean WHAT GIVES THERE????? Patrick Corbin seems to be past 2014 TJ surgery but why is he so terrible on the road when he was pitching in a "hitter's park" at home??????? Rick Porcello are you more 2016 or 2017???? Ervin Santana, not even a question mark we know he isn't that good. He might still return from injury and give the Slugs a pivotal CG or something though. They also have Alex Reyes, whom I am probably obligated to mention, he will likely begin the year in the bullpen but who knows could end up a useful starter down the stretch. I am also obligated to mention command is the last thing to return after TJ surgery, and he didn't exactly have great command to begin with.
ON TO THE BULLPEN, the Slugs overhauled this area and no longer are known for Zach Britton CUZ HE IS GONE. In his place remains the O's logical closer until he returns from injury in Brad Brach. The Slugs also picked up Wade Davis, who heads to Coors looking to do as good a job with it as Greg Holland did last year. Which he certainly can. There's also Fernando Rodney, evidently the Twins closer for now but I have my reservations there. Prettiest 'pen piece of alllll, however, is AJ Minter (I mean unless Reyes becomes a real weapon there out of an SP slot). AJ Minter has very nasty stuff and if he can stay healthy he should be in line for a year fullll of Ks, possibly the closer by the time 2018 is said and done but even if not should rack up holds and strikeouts and I miss him already.
1-  Max Scherzer
2-  Luis Severino
3-  Jon Gray
4-  Wade Davis
5-  Charlie Morton
THE PREDICTION!:  8-9-1, 7th place.  This prediction is more a testament to the trickiness of this 18 game schedule than a knock on the Slugs but YANNO, we can't just expect all those offensive question marks to work out for them now can we. Couple that with a pitching staff that let go of HEART AND SOUL Jake Arrieta and a bullpen that feels somewhat underwhelming and I think the Slugs streak o' consecutive playoff appearances stops at 3 in 2018 (please everyone take some time out now to remember the Slugs getting screwed out of a playoff spot in favor of the Bulldogs back in 2014). Happens to the best of us.
THE COMMISH'S PREDISH (Odom's Prediction):  3-13-2, 10th place. OUCH.