MVP:  Trevor Story  –  Look nobody hates Trevor Story more than I do, I mean I hate him with every fiber of my being. And why do I hate him? I do not even know it just became my gimmick at some point. But yea he had a good week. But fuck him.  7/19, 5 Rs, 2 2Bs, 2 3Bs, 3 HRs, 11 RBIs, .480 OBP     
LVP:  Jarlin Garcia  –  Honestly nobody really had a standout bad week per se, Jarlin's aside. Billy Hamilton has been a weird asshole this year but even he had a 3B and HR on the week, and stole 3 bags during a Sunday benching (no official steals for him though). So yea, Jarlin gets this just by virtue of being the worst overall but how much it mattered into the bottom line is questionable. X*Rayz just lost a tough one.  4 IP, 7 ER, 3 Ks, 15.75 ERA      
Banana Slugs Hitter Of Note:  Eugenio Suarez, he was very good again and now I am forced to stare at my roster and figure out who I decided to drop him for (10/29, 6 Rs, 2 2Bs, 2 HRs, 8 RBIs, .355 OBP).
Banana Slugs Pitcher Of Note:  And who in the world is this fuckin' guy this Fernando Romero fuckin' guy with the strikeouts and whatnot, either he was good enough or Sev was good enough SOMEONE was good enough for me to not reprint a Scherzer line here (11 IP, 1 ER, 15 Ks, 1 QS, 1 W, 0.82 ERA).
X*Rayz Hitter Of Note:  He has been going out of his way to show me his numbers so HERE feast your eyes upon Odubel Herrera's somewhat improbably nastiness, guy's gonna be an All Star and shit and he spent the first month bouncing around the Backyard (10/19, 7 Rs, 1 2B, 3 HRs, 9 RBIs, 1 SB, .640 OBP).
X*Rayz Pitcher Of Note:  Sean Newcomb with the NASTINESS himself, nastiness that at least Lobman (and probably me a little) has been waiting on for a while now (12 IP, 0 ER, 12 Ks, 2 QS, 2 Ws, 0.00 ERA).
Week 7:  Banana Slugs v. MW (5-1 v. 1-5),
                 X*Rayz @ Babadooks (3-3 @ 2-4)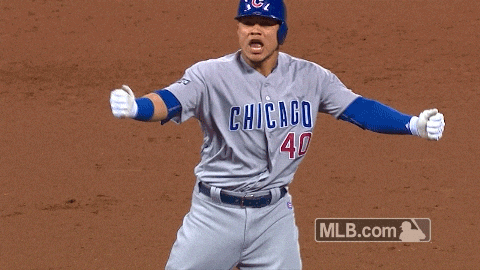 MVP:  Wilson Contreras  –  HOW ABOUT this Wilson Contreras JROLL, a most peculiar feat for a catcher and something I would only possibly expect out of JT Realmuto. And I would be wrong cuz Wilson Contreras just had himself one. And a two triple JROLL at that. Continue to feel yourself, Wilson.  11/23, 6 Rs, 3 2Bs, 2 3Bs, 3 HRs, 12 RBIs, 1 SB, .500 OBP     ***MVP OF THE WEEK***
LVP:  Didi Gregorius  –  SAD STATE OF AFFAIRS for Didi Gregorius, as he went from being perhaps the hottest hitter in baseball to a guy that barely mustered a .100 OBP last week. FORTUNATELY for the Yankees it doesn't seem like they need him to rake in order to win. UNFORTUNATELY for the Bonerz they probably do.  1/27, 2 Rs, 1 RBI, 1 SB .103 OBP     
Bad Dudes Hitter Of Note:  Manny Machado stays crushing baseballs, maybe the Yanks or the Bonerz (HAHA) can get him to replace Didi (10/27, 8 Rs, 2 2Bs, 4 HRs, 11 RBIs, .433 OBP).
Bad Dudes Pitcher Of Note:  Also Carlos Carrasco pitched himself a fucking gem, and I really like him a lot (9 IP, 2 ER, 14 Ks, 1 QS, 1 CG, 1 W, 2.00 ERA).
Morning Wood Hitter Of Note:  A positive for the Wood was a nice little week from Justin Upton, although a negative might be this served only to remind them Justin Upton is no longer a Tiger (9/25, 5 Rs, 1 2B, 4 HRs, 10 RBIs, .407 OBP).
Morning Pitcher Of Note:  A second negative would be that Carlos Martinez hit the DL with some sort of lat thing (5 IP, 2 ER, 2 Ks, 3.60 ERA).
Week 7:  Bad Dudes v. Isotopes (3-3 v. 5-1, BBOTW) 
                 MW @ Slugs (1-5 @ 5-1)
MVP:  Joey Votto  –  ULTIMATELY this one came down to a .3363 to .3362 OBP advantage for the Babadooks. Which isn't entirely true, this also came down to (in no particular order):  Archie Bradley's lack of strikeout stuff, Jacob deGrom's lack of grit and/or Mickey Callaway's lack of faith in him, Dave Martinez's lack of understanding of pitch counts and the dangers of going to a bullpen too early, the weather's lack of cooperation with this year's MLB schedule, etc. etc. etc. BUT ALSO it came down to OBP, so I am just going to lazily give this to the guy with the best OBP over the most ABs and that is usually Joey Votto (Please also note Gary Sanchez had a .478 over 15 ABs but who can do wants to do the math with this shit).  7/25, 5 Rs, 1 HR, 4 RBIs, 1 SB .438 OBP
LVP:  Archie Bradley  –  You could point to some of the issues lightly referenced above but perhaps the BIGGEST issue is Archie couldn't muster one fucking K on Sunday night, and also couldn't must one fucking K in 2 other appearances, and also hasn't mustered one fucking K in his last 5 appearances. Came back to bite the ButtSliderz.  3 IP, 2 ER, 1 Hold, 6.00 ERA 
Babadooks Hitter Of Note:  I am sure Kyle Seager will come up with his typical Kyle Seager-y numbers this season and I will just have to compare those to Eugenio's numbers at year's end to see just how badly I may have miscalculated that position battle (7/24, 6 Rs, 2 2Bs, 3 HRs, 8 RBIs, .393 OBP).
Babadooks Pitcher Of Note:  And Aaron Nola continues to be the light of my life in terms of fantasy baseball pitching staff guys, now 7 straight QS (13 IP, 2 ER, 16 Ks, 2 QS, 2 Ws, 1.38 ERA).
BackdoorSliderz Hitter Of Note:  I took note very early on in this matchup of the fact that Carlos Santana was absolutely killing me, which is just as annoying as it sounds (8/25, 6 Rs, 2 2Bs, 4 HRs, 14 RBIs, .346 OBP).
BackdoorSliderz Pitcher Of Note:  Jeremy Hellickson probably earned himself at least one more inning on Sunday night, but DIDN'T GET IT and that is the sort of thing Doch should write Dave Martinez angry hate mail about for the rest of time (11.2 IP, 1 ER, 13 Ks, 1 QS, 1 W, 0.77 ERA).
Week 7:  Babadooks v. X*Rayz (2-4 v. 3-3)
                 Sliderz @ OGTFC (2-4 @ 2-4)
MVP:  Trea Turner  –  This one turned from a tie to an OGTFC victory on a Trea Turner Sunday night game 5th inning dong, so why not give Trea MVP. That is how we are doing things this week, gents.  6/25, 8 Rs, 3 HRs, 3 RBIs, 1 SB, .406 OBP     
LVP:  Ryan Braun  –  Ryan Braun nobody likes you because you lied about the steroids pee test thing and broke A-Rod's heart (both A-Rods, probably).  2/19, 2 Rs, 2 2Bs, 1 RBI, .182 OBP
OGTFC Hitter Of Note:  As mentioned above the Fishing Club but on an OBP/Rs clinic and nearly broke both all-time records and Kris Bryant was a rather large part of that (7/20, 11 Rs, 2 2Bs, 3 HRs, 6 RBIs, .536 OBP).
OGTFC Pitcher Of Note:  And now just to knock Greggers down a bit let's point out another person his team needed to drop weeks ago but hasn't, Danny Duffy (8.2 IP, 10 ER, 7 Ks, 1 W, 10.38 ERA).
Warriors Hitter Of Note:  Even in narrow defeat, Francisco Lindor refuses to cool the fuck down even one bit (12/20, 8 Rs, 4 2Bs, 4 HRs, 5 RBIs, .652 OBP).
Warriors Pitcher Of Note:  I feel like Stephen Strasburg is a bit of a forgotten ace for the team with a bunch of aces but he is PLENTY GOOD, maybe with all of the other aces dropping like flies that will become more apparent (13.2 IP, 4 ER, 14 Ks, 2 QS, 2 Ws, 2.63 ERA).
Week 7:   OGTFC v. Sliderz (2-4 v. 2-4)
                 Warriors @ RRF (3-3 @ 4-2)
2018 WEEK 6 BACKYARD BATTLE OF THE WEEK, SPONSORED BY THIS PIZZA PIE THAT IS MISSING A THIRD CUZ I AM REALLY IN THE WEEDS WITH THESE "ONE THIRD" PICTURES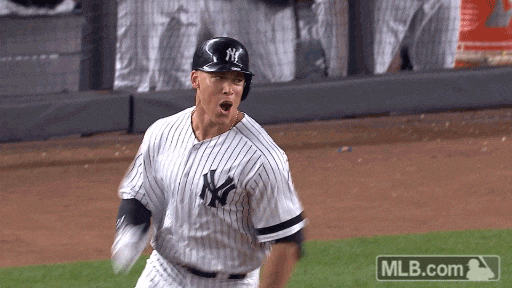 MVP:  Aaron Judge  –  *gavel emoji* *gavel emoji* *gavel emoji* *gavel emoji* *gavel emoji* *gavel emoji* *gavel emoji* *gavel emoji* *gavel emoji* *gavel emoji* *gavel emoji* *gavel emoji* *gavel emoji* *gavel emoji* *gavel emoji* *gavel emoji* *gavel emoji* *gavel emoji* *gavel emoji*.  9/23, 7 Rs, 1 2B, 3 HRs, 12 RBIs, .533 OBP
LVP:  Joey Gallo  –  Joey Gallo's line was too similar to the same line that got Matt Chapman LVP of the week last week so…..LVP of the week.  1/21, 1 R, 1 2B, 1 RBI, .130 OBP     ***LVP OF THE WEEK***     
Isotopes Hitter Of Note:  Robinson Cano dontcha know he hit the DL with a broken hand, if you didn't know well that is why I am fucking noting it in my patented "of note" section (7/23, 4 Rs, 2 2Bs, 1 HR, 5 RBIs, .346 OBP).  [AMENDMENT:  He was also BEING A CHEATING CHEATER all this time which may be the more pressing issue for the Isotopes and their "legacy".]
Isotopes Pitcher Of Note:  Dallas Keuchel, long-time fan favorite of whatever fans the Isotopes have, with a nice two start week (15 IP, 1 ER, 12 Ks, 2 QS, 2 Ws, 0.60 ERA).
RRF Hitter Of Note:  Scooter Gennett, PERHAPS IMPROBABLY, still being a very good hitter (13/22, 7 Rs, 2 2Bs, 4 HRs, 10 RBIs, .591 OBP).
RRF Pitcher Of Note:  It takes a special sort of team effort for a team to put up a 6.361 team ERA, even so and with all due respect to Ian Kennedy (9 ER in 4 IP) we will be highlighting Jason Hammel here (3.2 IP, 9 ER, 1 K, 22.09 ERA).
BBOTW BREAKDOWN
This one was likely billed as a battle between the two HEAVYWEIGHTS of the Backyard, or at the very least a battle between the top two teams from the first edition of the 2018 Power Rankings. IN SOME WAYS it would have likely lived up to said billing, as the matchup was closer than the final score might indicate. In other ways I am disappointed. ANYWHO, the 'Topes take this one by getting things done on both side of the coin with a 4-2-1 advantage for batters and a 5-1-1 advantage for pitchers. The batters side stayed close, the two teams tying in dongs and the 'Topes taking two baggers by a mere….two. The pitchers side not so much, as the Renegade Force pitched to a very unintimidating 6.361 ERA that betrayed the intimidation of their team name.  You can blame all the bums they spot started but you CANNOT blame Shohei Ohtani (1.42) or Corey Kluber (2.08, 2 starts) so at least there is that. The Isotopes, on the other hand, pitched to a respectable 3.544 ERA, credit due to Dallas Keuchel (0.60, 2 starts) and Chris Sale (3.00) and really just about anyone that wasn't David Robertson (27.00) or JA Happ  (18.90) or Drew Steckenrider (54.00) or Trevor Williams (7.20). And with that superior pitching (at least out of most of the starters) came superior #s in QS and FAR superior #s in Ws and Ks and there you have it that's a big part of this matchup's final outcome. Who needs to name names on the offenses NOT I.
In Week 7 the Isotopes head into a BACKYARD BATTLE OF THE WEEK showdown with a playful nemesis of theirs, the River City Bad Dudes. I only really ever see the Bad Dudes winning playoff matchups but apparently this is still some sort of "rivalry"? Something to do with the Backyard's dead-ball era. Also in Week 7, the Renegade Force head into a still-tough matchup against the wounded Garden State Warriors (Sano, Moncada, Darvish, Kershaw all on the DL).
Week 7:  Isotopes @ Bad Dudes (5-1 @ 3-3, BBOTW)
                RRF v. Warriors (4-2 v. 3-3)