Before we begin I would like to welcome everyone back to the Backyard blog's WEEK REVIEWWWWWWS. And welcome you all to the 2018 SEASONNNNNNNN. Give yourselves a round of applause. COUPLE OF QUICK CHANGES:
I am tired of fucking writing about your sometimes uninteresting matchups. Also I want to streamline this format so any old schmuck could review a week if they are feeling randy. So these reviews will be pretty box score-y EXCEPT for the BBOTW.
ON THAT NOTE. Only a true coward would pick his "Backyard Battle of the Week" (NEWER SNAPPIER NAME) after the week has ended and quite frankly I am disgusted with you all for letting me get away with it for this long. From now on that shit gets picked ahead of time, based on personal preference of the review writer. And then that shit is the only shit that gets thoroughly reviewed with paragraphs and stuff.
Some other news and notes….
POWER RANKINGS, I've decided those don't make much sense early in the season. You could argue you already sorta have my preseason Power Rankings with my projected standings, which is what I am arguing right now. Beyond that the first batch is scheduled for beginning of May, followed by rankings top o' the month for June July and August. So I guess I've STREAMLINED that to 4 editions of Power Rankings per season. If anyone is really itching for them in April here feel free to write your own.
ONE LAST NOTE AND THIS IS AN IMPORTANT ONE:  MONEY. We all like it, and this league needs to start bringing some in so I can hire someone to proofread things I am too lazy to. Jk that wouldn't be what it is for BUT I am hereby proposing a $20 buy-in for the Backyard, starting this season, to be paid to the champeen and runner-up and whatnot via Venmo or some shit at the end of the season. I think I've already gotten soft verbals from like 7 of you or so, the cash breakdown would be as follows:
$140 –  BCS Champ
$40 – BCS Runner-up
$20-  Trophy Maintenance (aka to pay for the little plaque thingie to be                          added each year).
Think about it folks, talk about it amongst yourselves, I think it is a fine idea because the trophy should be paid for each year, but I know change is hard so fully prepared for this idea to go nowhere. But it is a good one. 
ALRIGHT I think we are all caught up here let's get on with this shit. Just to show how zaaaneeeey these changes have become I am just reviewing Week 1 in a random order that I prefer. I reserve the right to review future weeks based on margin of victory though, as was customary in simpler times….
MVP:  Patrick Corbin  –  Patrick Corbin gave the MooniniteZ 12 quality innings in 2017 and in 2018 he came out and gave the Babadooks the fucking BUSINESS. Gotta like what you're seeing from Patrick Corbin thus far, he's throwing his slider 45% of the time cuz fuck a fastball.  13 IP, 2 ER, 20 Ks, 1 QS, 2 Ws,  1.38 ERA
LVP:  Joey Votto  –  When your team scores the fewest runs/knocks the fewest dongs in the week SOMEONE MUST BE BLAMED so I blame Votto, who somehow scored ZERO times (and pretty much did nothing) in 31 ABs and even more horrifyingly only managed one walk.  7/31, 2 RBIs, .265 OBP
Banana Slugs Hitter Of Note:  The Slugs scored the second most runs in all the land in Week 1 and some credit has to go to Brett Gardner there as he's already up to 10 (10/42, 10 Rs, 2 2Bs, 1 HR, 3 RBIs, .347 OBP).
Banana Slugs Pitcher Of Note:  The Slugs also EASILY put together the best ERA in all of the Backyard, and narrowly tossed the most Ks, thanks to your Corbins and your Charlie Morton and such and such (12 IP, 0 ER, 13 Ks, 2 QS, 2 Ws, 0.00 ERA).
Babadooks Hitter Of Note:  All Smoaks aside Rhys Hoskins was one of the few batters to actually show up for the Babadooks in Week 1 (11/25, 6 Rs, 5 2Bs, 1 HR, 7 RBIs, 2 SBs, .559 OBP).
Babadooks Pitcher Of Note:  And then on the pitching side of things Alex Wood and his piss poor velocity accounted for 40% of our total QS EVERYTHING IS FINE THOUGH WE ARE FINE (14 IP, 3 ER, 10 Ks, 2 QS, 1.93 ERA).
Week 2:  Slugs v. OGTFC (2017's #2 v. 2017's #7),
                Babadooks @ 'Topes (2017's #1 @ 2017's #6, BBOTW CUZ 'NADO TRADE)
MVP:  Freddie Freeman  –  Freddie Freeman remains really good, not sureeee what else to say about that. I say this is the year he ends up as the top rated fantasy 1B. Cuz yanno Rhys Hoskins will probably be seen as an LF and all that.  11/30, 10 Rs, 5 2Bs, 2 HRs, 11 RBIs, .558 OBP
LVP:  Miguel Andujar  –  The Yanks rook only had 17 ABs for the 'Topes but LET US BLAME HIM ANYWAYS, as they were mostly unproductive ABs and mostly the 'Topes had a very good offensive week.  2/17, 1 R, 2 RBIs, .167 OBP     ***LVP OF THE WEEK***
BackdoorSliderz Hitter Of Note:  The BdSliderz put together not one but TWO JROLL this week, so many that I almost made the picture up top J-Roll to anger him, but yea one was "Carlos Eduardo Gonzalez" so we all know the one I am gonna highlight is Ozzie Albies tha god (10/41, 9 Rs, 3 2Bs, 1 3B, 3 HRs, 6 RBIs, 1 SB, .262 OBP).
BackdoorSliderz Pitcher Of Note:  Jameson Taillon have yourself a WEEK young man, who needs two balls anyways (14.1 IP, 2 ER, 16 Ks, 1 QS, 1 CG, 2 Ws, 1.26 ERA).
Isotopes Hitter Of Note:  The 'Topes DID lead the league in runs in Week 1 so that's uhhh something to build on, Charlie Blackmon right in the mix as per usual (10/36, 9 Rs, 2 2Bs, 4 HRs, 6 RBIs, 1 SB, .366 OBP).
Isotopes Pitcher Of Note:  Cole Hamels had a sorta fascinating week, racking up 23 Ks across two starts but also failing to rack up any QS and pitching to an ERA of 5 or so (16 IP, 9 ER, 23 Ks, 1 W, 5.06 ERA).
Week 2:   Sliderz v. X*Rayz (2017's #5 v. 2017's #3/CHAMPEEN)
                'Topes v. Babadooks (2017's #1 @ 2017's #6, BBOTW)
MVP:  AJ Pollock  –  AJ POLLOCK JROLL! A fine lookin' JROLL at that. All of a sudden JROLLs are in large supply around here, not sure how I will feel about this if it continues. But for Week 1 we will just enjoy the JROLLs and blame the extra game or two or whatever.  12/35, 7 Rs, 6 2Bs, 1 3B, 1 HR, 6 RBIs, 3 SBs, .425 OBP
LVP:  Anthony Rizzo  –  Pretty weak effort for Anthony Rizzo by Rizzoian standards, and I always knew I didn't like his face and this just proves why or something.  3/28, 2 Rs, 1 HR, 3 RBIs, .219 OBP
Bad Dudes Hitter Of Note:  Here's another hitter that hit good for the Bad Dudes, and truthfully he should be matchup MVP cuz he hit six goddamned HRs, but I am so tired of Google image searching Bryce Harper pics for these things so I am giving myself a pass for Week 1 (10/29, 10 Rs, 6 HRs, 12 RBIs, 1 SB, .535 OBP).
Bad Dudes Pitcher Of Note:  And Sean Manaea had a nice little week on the bump, and who knows how many times I will be able to say that going forward (15.2 IP, 2 ER, 11 Ks, 2 QS, 1 W, 1.15 ERA).
OGTFC Hitter Of Note:  Mookie Lynn Betts performed well in Week 1 but yes this is also just an excuse to write out that name (12/33, 8 Rs, 3 2Bs, 1 HR, 2 RBIs, 2 SBs, .475 OBP).
OGTFC Pitcher Of Note:  And also Gerrit Cole, he did not struggle with his initial jaunt into the American League and then of course he didn't struggle yet again when he got the Padres at home (14 IP, 1 ER, 22 Ks, 2 QS, 1 W, 0.64 ERA).
Week 2:  Bad Dudes v. RRF (2017's #4/runner-up:( v. 2017's #8)
                OGTFC @ Slugs (2017's #7 @ 2017's #2)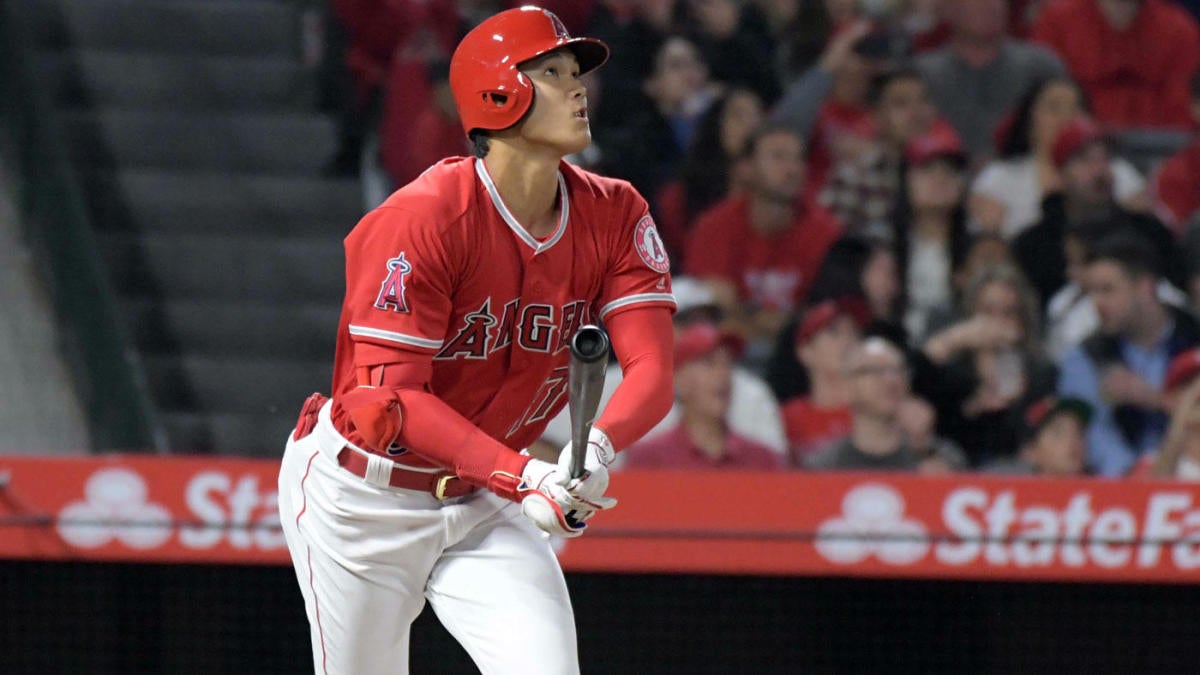 MVP:  Shohei Ohtani  –  Let's allll get used to seeing this guy's MUG every time the Renegade Force grab a victory, particularly in weeks like this when he logs two starts and also two dongs for them. Will be interesting to see if the RRF learn how to properly work him into the lineup, as they left a 3 run jack on the bench due to a little uncertainty adapting to this newfangled weapon. Despite that Ohtani looked really good on the mound and really good at the dish and logged 2 QS, 2 Ws, and 2 HRs for Rojo and NOBODY HAS EVER DONE THAT BEFORE IN THIS LEAGUE. Historical stuff, you guys.  4/14, 2 Rs, 2 HRs, 4 RBIs, .333 OBP  OH BUT ALSO  13 IP, 3 ER, 18 Ks, 2 QS, 2 Ws, 2.08 ERA     ***MVP OF THE WEEK***
LVP:  Julio Teheran  –  Julio got off to a fairly poor start to 2018, to the point where the Bonerz probably wish he just lined up for one start in Week 1 rather than two.  8 IP, 9 ER, 5 Ks, 10.13 ERA
RRF Hitter Of Note:  Zack Cozart had himself a fine week as he attempts to remove the "surprising" tag from his surprising 2017 season, the blog appreciates that he did not steal a base as that would have been one too many Rollinses for this week IMHO (11/44, 7 Rs, 3 2Bs, 1 3B, 2 HRs, 4 RBIs, .313 OBP).
RRF Pitcher Of Note:  And also in the non-Ohtani Asian pitchers market Masahiro Tanaka had a lovely little week, I've always been a fan but only really went as far as offering like Matt Carpenter for him so here we are (12.1 IP, 4 ER, 15 Ks, 2 QS, 1 W, 2.92 ERA).
Morning Wood Hitter Of Note:  AND THIS IS EXACTLY WHAT I AM TALKING ABOUT, fucking 2 more JROLLS that I didn't even notice til the exact moment I wrote this sentence but one was StarMar and the other is Yankee legend DIDIIIIIII who had himself a fucking WEEK (12/32, 10 Rs, 6 2Bs, 1 3B, 3 HRs, 10 RBIs, 2 SBs, .524 OBP).
Morning Wood Pitcher Of Note:  Jacob Faria also had himself a fucking week but in the bad way, this is across two starts folks (5.2 IP, 9 ER, 2 Ks, 14.29 ERA).
Week 2:   RRF @ Bad Dudes (2017's #8 @ 2017's #4/runner-up:( )
                 MW @ Warriors (2017's #10 @ 2017's #9)
2018 WEEK 1 BACKYARD BATTLE OF THE WEEK, SPONSORED BY BALLAST POINT'S GRAPEFRUIT SCULPIN
MVP:  Miguel Sano  – Fresh off the non-suspension for that time he off that time where he DIDN'T attempt to assault that young girl in that mall or whatever (I think he probably did it but what do I know), Miguel Sano has opened the season not suspended and has made the most of that non-suspension. I am not going to write anything more and pretend that is out of some moral high ground but really I just don't know what else to add.  8/27, 7 Rs, 3 2Bs, 3 HRs, 8 RBIs, .405 OBP
LVP:  Orlando Arcia  –  TOUGH START to the Orlando Arcia Era in Mission Valley as he looked to establish himself as a replacement for Elvis Andrus. Early returns weren't terribly encouraging.  1/11, 2 Rs, .231 OBP
Warriors Hitter Of Note:  Christian Yelich had a solid week but I am mostly pointing him out cuz he hit the oleeee 10 day DL, along with Wil Myers, so the Warriors will have their offensive flexibility tested a wee bit in their Week 2 matchup (10/26, 6 Rs, 2 2Bs, 1 HR, 5 RBIs, .407 OBP).
Warriors Pitcher Of Note:  The Warriors' 136 total Ks were actually THIRD this week behind 137 from the 'Topes and 138 from the Slugs, so that is nice and tidy Jose Berrios had a huge CG I could talk about but I would rather note that Clayton Kershaw started three times and got fucked out of three Ws by the ailing Dodgers offense (19 IP, 4 ER, 19 Ks, 3 QS, 1.89 ERA).
X*Rayz Hitter Of Note:  FORTUNATELY for the X*Rayz re: Arcia, another SS rose to the occasion and early returns were far more encouraging for that one and his name is Tim Anderson and he had a friend die once (8/29, 7 Rs, 3 HRs, 4 RBIs, 5 SBs, .364 OBP).
X*Rayz Pitcher Of Note:  Luis Castillo got off to a litttttle bit of a suspect start for everybody's darling breakout pick, but one of those starts was against the Nats so give that a little bit of a pass and really I think this middle names thing is the far more suspect situation in the early going here (CUZ IT IS REALLY EARLY PEOPLE) (10 IP, 10 ER, 9 Ks, 9.00 ERA).
BBOTW BREAKDOWN
I picked this one prior to the week beginning due to it featuring our defending champ and TURNS OUT this may have been the week's best matchup, as there were a few lead changes on Sunday owing to a razor-thin OBP margin for much of the afternoon. Truth be told I hinted the X*Rayz might be dead in the water MUCH EARLIER in the week and they rallied and rallied good over the weekend, on the backs of identical 2 HR/7 RBI Friday and Saturdays and uhhh OTHER STUFF. But in spite of their best efforts they were unable to overcome that dastardly Jose Berrios CG, and the narrow OBP lead faltered (with the Warriors demonstrating some ACTUAL MANAGING for a change with their benching of Rendon in the night game). The 14-14 deadlock in HRs has to sting for Mission Valley, typically a light-on-HRs type squad, as does the always insulting to injury loss of the triples cat despite multiple 3Bs (3-2), but in the end this one came down to the Warriors demonstrating their usually strong pitching and the depleted staff of the X*Rayz failing to keep up. And that Berrios CG. Can't overstate how big that was because I kinda understate it by not giving him Pitcher of Note or MVP or nuttin.
In Week 2 the Warriors will look to ACTUALLY MANAGE their way to another win versus last year's dead last Woke Up With A Boner Squad, despite two star bats set to miss all or most of the matchup (Wil Myers & Christian Yelich). The X*Rayz, meanwhile, head to Lacey Township hoping to avoid a Heroyian 0-2 start to their title defense campaign.
Week 2:  Warriors v. MW (2017's #9 v. 2017's #10)
                X*Rayz @ Sliderz (2017's #3/CHAMPEEN @ 2017's #5)