2017 RECORD:  9-8-1
KNOW YOUR OWNER!:  Mike! Mike is still here, still grinding out BCS appearances. NOT WINNIN EM SO MUCH LATELY. But getting there. Which is impressive enough I s'pose. When he's not scouring waiver wires Lobman enjoys cooking, drinking margaritas, watching CNN, etc. And when he IS scouring waiver wires, he is rather prolific. Last year the Bad Dudes made a league-high SIX HUNDRED EIGHTY FOUR moves in-season, grinded their way to a 4 seed, and then further grinded alllll the way to their third straight BCS appearance. Which resulted in their second straight BCS loss. LETS GO FOR THREE/BEST OF LUCK TO LOBMAN IN THE UPCOMING SEASON!
KEY ADDITIONS!:  SP Jake Arrieta MAYBE, CF Andrew McCutchen2B Jason Kipnis, RP Brad Boxberger, RP Zach Britton MAYBE EVENTUALLY, SP Kevin Gausman forreal this time lolz, SP Carlos Rodon ditto for this guy lolz.
KEY SUBTRACTIONS!:  RP Wade Davis, RP Archie Bradley, RP Craig Kimbrel ALL THE RPs, 1B Chris Davis, SP Ervin Santana MAYBE if he throws another 4 CGs or whatever (I do not expect this to happen), 
THE HITTERS!:  These fucking bridesmaids. I kid I kid. Let's talk about these Bad Dudes Bat Dudes a bit.  The Dudes seem to just shuffle chairs around the stars and that seems to be the case once again, with Bryce Harper Giancarlo Stanton and Manny Machado THE BIG THREE all back obviously. These guys are all good obviously. Also rather good is a man that somehow mustered 43 2Bs SIX TRIPLES and 33 HRs last season and that man is Jose Abreu. Somehow that season snuck by me last year but that is a fucking beaut. Beyond that you've got Wilson Contreras as a guy that isn't Gary Sanchez but is pretty damn good (top 3 we shall say), AJ Pollock as a guy that should be fine humidor be damned cuz he was never going to hit 20 HRs again anyways, Yoenis Cespedes as a potential monster if he can avoid lame injuries, Nomar Mazara looking to take the next step forward as a soon-to-be 23 year-old that knocked in 101 RBIs last season, etc. etc. etc. PLENTY OF BATS TO GO AROUND. Also Rougned Odor who sucks but will probably be fine for our league's purposes if you can stomach potentially hideous OBP, and Jason Kipnis as an aging poorly/injury-prone question mark that also has hit like six dongs in spring training. HOORAY SPRING TRAINING DONGS. ON TO THE HR REPORT:  NINE projected for 20+, as well as Contreras projected for 19, and 5 of those 9 projected for 30+ (with Stanton projected for freaking 52). Power should be fine here. PERHAPS a smidge top-heavy on O overall but the RCBD bats can compete with any lineup.
1-  Bryce Harper
2-  Giancarlo Stanton
3-  Manny Machado
4-  Jose Abreu
5-  Yoenis Cespedes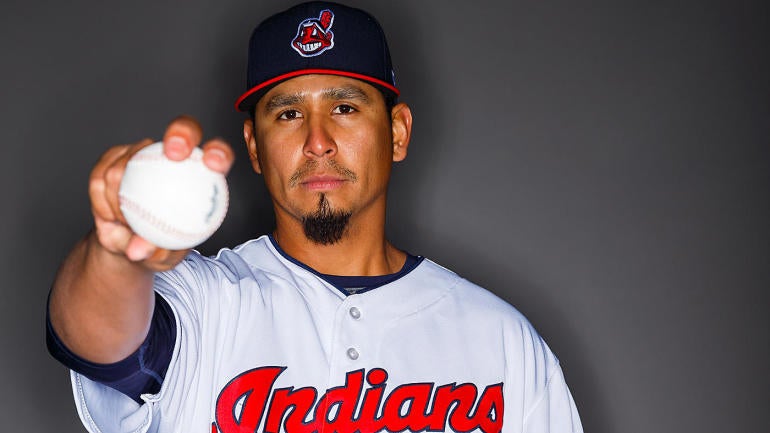 THE PITCHERS!:  These fucking "Second Place Is The First Loser" No Fear T-shirts. I kid I kid. Let's talk about the Bad Dudes Ball Throwers a bit. SORTA an underwhelming starting staff as I would call it, lead by Carlos Carrasco fresh off his best season to date. I have loved Carlos Carrasco since he was a Clearwater Thresher in my old MLB The Show Phillies franchise TRUE STORY. So yea I love Carlos, surprised I haven't tried to trade for him yet. After Carlos I declare a bit of a dropoff, as one guy I have NOT ever loved is Marcus Stroman. Should deliver some innings and some QS but meh, but he also may be the second best pitcher on the staff. Sonny Gray is also here as he looks to settle in to a full season as a Yank, if The Kraken can block The Curveballs he could have a nice little season. And Jake Arrieta arrives in Philly, a man shunned in free agency, but at least he showed up before June. Also there's a bunch of other FRINGE arms (Kevin Gausman, Carlos Rodon, Sean Manaea) that need to show me more or need to not be injured before I waste too much space on them. Also there is Danny Salazar whom the Indians need to go ahead and just turn into Chad Green type already.
As for the Bad Dudes bullpen, changes afoot. SHIPPED OUT were some dudes (Wade Davis, Archie Bradley, Jimmy Sherfy) and BROUGHT IN were some other dudes that might be able to mostly match the performances of those three (Brandon Morrow, Mark Melancon, Joe Jimenez). OH YEA and they still have Craig Kimbrel there, he's probably the second best closer in all the land which is a sad thing to admit 'cuz SAWKS Never mind now they have Brad Boxberger, he's like 3 blown saves from being replaced by Hirano. Now they also have Blake Treinen as Kimbrel replacement *sad trombone*.  The Bad Dudes also have the ghost of Zach Britton rattling his chains around their DL slots, what he's got when he comes back is anyone's guess though. He used to be lovely.
1-  Craig Kimbrel Carlos Carrasco
2-  Marcus Stroman
3-  Sonny Gray
4-  Jake Arrieta
5-  Danny Salazar
THE PREDICTION!:  8-8-2, 5th place. I expect much o' the sameeeeee from the Bad Dudes this year, inconsistency and tinkering all season long resulting in an underwhelming playoff berth. And those meeting the Bad Dudes there would be wise to no take them lightly, they've marched through all the rounds before they can march through all the rounds again.
THE COMMISH'S PREDISH! (Odom's Prediction):  11-7, 3rd place.