2017 RECORD:  8-9-1
KNOW YOUR OWNER/KNOW YOUR TEAM!:  ROJO! Lovable fan favorite Rojo. This is still the case if you ask me, even if those same fans are growing a wee bit tired of the same ol' Resurgence. Much like the man himself, who has managed to stay largely unchanged for years now due to an avoidance of any kind of stressful physical activity/sleeping in a hyperbaric oxygen chamber, the Resurgence are coming into 2018 MOSTLY unchanged from the end of 2017. They didn't engage in too many trades during the season relative to the rest of us tradesters, and didn't engage in any trades after their season ended, but certainly made some saavy deals last summer that should or COULD lead to some solid gains in some areas. Whether or not the number of trades increases in 2018, whether or not they actually keep the current closer on their roster, these things we can only know with time. Which is an illusion. BEST OF LUCK TO ROJO IN THE UPCOMING SEASON!
KEY ADDITIONS!:  HECTOR NERIS!!!!!!!, SP/DH Shohei Ohtani, SP/RP Brad Peacock, maybe CF Victor Robles at some point but maybe not, Josh Reddick?
KEY SUBTRACTIONS!:  Honestly I do not know of any, apart from perhaps the All Holds Guys No Closers Cuz I'm Stubborn strategy……which would be addition via subtraction.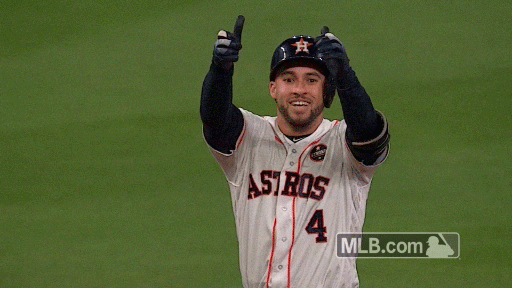 THE HITTERS!:  Say what you want about Rojo's Resurgence's misfit toys ride the hot hands into a second season even if those hands were likely only hot for one season style roster construction, but they now have George Springer and that is better than not having him. And they still have Goldy and he's still the best 1B in our league, so that is a not too shabby base. After that it gets a little murkier, a mix of aging former stars (Adam Jones, Beltre, Cruz) and young/youngish guys looking to step up (Devers) or avoid heavy regression (Taylor, Gennett) or just keep their fucking job (Maikel Franco). Lets just get to the 20+ projected HR stats since that's what this is all about now:  a very nice and clean 10 projected for 20+, with two of those (Gallo & Cruz) projected for 41 and 40 respectively. SO THAT IS NICE. Particularly since the roster is all but punting steals as of right now, unless Chris Taylor or Goldy can save them in a given week.
1-  Paul Goldschmidt
2-  George Springer
3-  Nelson Cruz
4-  Joey Gallo
5-  Rafael Devers
THE PITCHERS!:  SNEAKY GOOD CORE! Just like last year when I labeled them quietly solid for having a quartet of Yu Darvish, Mashahiro Tanaka, Corey Kluber, and Johnny Cueto. That quartet has swapped Darvish for Bumgarner which is a damn fine upgrade, and also added caraaaazayyyyy fantasy guy that goes both ways Shohei Ohtani. He might be pretty good to very nearly great, certainly enough to offset Cueto maybe no longer being good, and HEY I am also a fan of Jordan Montgomery. Like me some Jordan Montgomery if he is given an opportunity.  There's also Chase Anderson, I guess you would technically refer to him as the 5th best arm here even though he bores me to tears. You're looking at a potential 7 man rotation for the Force which I am a fan of, less streaming the better I say. So that could work out.
Checking back in with the famed RRF bullpen and MY GOD THERE IS CURRENTLY A CLOSER. Hector Neris was on this team to begin last season and damned if they haven't brought him back (signing him back like last September) despite the fact that he is now technically a closer which usually repulses RRF management. And a pretty solid closer at that. And uhhh, yea that is really all I want to discuss about the bullpen because it is by far the most exciting news coming out of ANY bullpen in the Backyard MAYBE POSSIBLY EVER. If I were to discuss something else I would mention the bold strategy of rostering the 'Stros multi-inning weapons (Devenski, Peacock) and how that may or may not work out for them depending upon what in the fuck the Astros do with those types (besides the obvious use of Peacock as a starter for the inevitable McCullers injury). But I don't want to discuss that sort of negativity not when we have this Hector Newsis…. HECTOR NERIS IS EVERYTHING.
1-  Corey Kluber
2-  Madison Bumgarner
3-  Masahiro Tanaka
4-  Shohei Ohtani
5-  Chase Anderson
THE PREDICTION!:  7-10-1, 9th place.  Last season the Resurgence started out 1-4 before closing 7-5-1. Two years ago the Resurgence started off 8-2, before finishing 3-6-1 and then cruelly losing in the first round of the playoffs via tie. I guess what I'm saying is I don't think that will happen again, because I think the RRF boast a good but not great roster and I think guys Ohtani underwhelms. Also I think guys like Gennett and Chris Taylor regress a bit, also I think Brian McCann shouldn't be so fussy also I think Nelly and Beltre are getting old. Add it all up and I see the newfound "mostly holds" strategy not being enough to get the RRF back to the playoffs in 2018. Tough league, kids.
THE COMMISH'S PREDISH! (Odom's Prediction):  9-8-1, 6th place.