2017 RECORD:  5-12-1
KNOW YOUR OWNER/KNOW YOUR TEAM!:  RYAN! I had declared this owner as having hit rock bottom with a .350 win percentage in 2017, and he went out and proved me wrong with a .306 in 2017. No doubt the squad turned its eyes to 2018 towards the end there, likely costing a game or two, but it was the LAPSES in managerial CONCENTRATION that cost a few games earlier in the season that put that team in that particular position. So that is both a note about the owner and a note about the team all in one. Note I am being vague about the team name cuz it changed a few times, but now Ryan is back and the team has been christened the Garden State Warriors and they're once again in position to try and Pitch First to the Playoffs. And uhhh, one interesting thing about this particular owner is that he is my brother. So THAT. Is a fun little piece of trivia I guess. BEST OF LUCK TO RYAN IN THE UPCOMING SEASON!
KEY ADDITIONS!:  CF Andrew McCutchen RP Craig Kimbrel ALL OF A SUDDEN, 1B Wil Myers ALL OF A SUDDEN, RP Sean Doolittle ALL OF A SUDDEN, SS Gleyber Torres ALL OF A SUDDEN, RP Carl Edwards Jr., RF Jesse Winker, SP Noah Syndergaard (if he gives them more than the 29.1 IP he gave them last year that is, and WHILE ON THIS SUBJECT….), SP James Paxton (if healthy), SP David Price (if healthy), 1B Ryan McMahon (if Rox starting 1B).
KEY SUBTRACTIONS!:  3B Kyle Seager, SP Michael Wacha, CF Andrew McCutchen ALL OF A SUDDEN, SP Carlos Rodon ALL OF A SUDDEN, C Buster Posey ALL OF A SUDDEN, SP Chris Sale ALL OF A SUDDEN, SS Tim Beckham, some dignity for rostering Tim Tebow on the ESPN roster ever so briefly.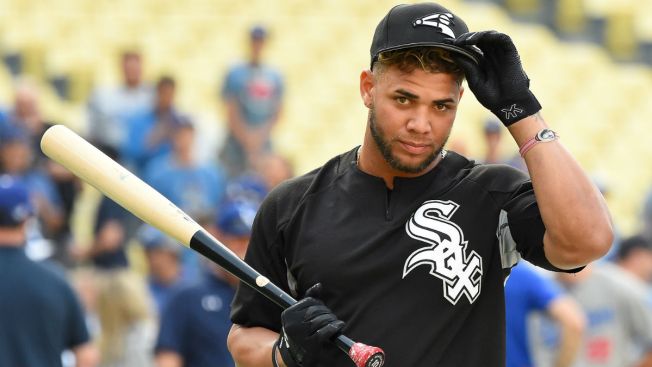 THE HITTERS!:  The Warriors return the core of their lineup, lead by two phenomenal shortstops (Carlos Correa, Francisco Lindor) and Anthony Rendon. And they have a new shiny infield piece that may finally take hold in 2018, as Yoan Moncada seems poised to get a full season's worth of ABs and may very well shine with said ABs. And the Warriors may just need it, as Miguel Sano is reportedly fat and may very well face a suspension for being rape-y, Ryan Braun is aging in a crowded OF situation, etc. etc. etc. A nicely orchestrated trade for new Giant Andrew McCutchen in the offseason, back when he was a Buc, and a potential starting gig at Coors for High Minors 1B Ryan McMahon could also help weather some storms. Since now I feel like I'm resigned to noting it, DONGS ARE LIFE and all, the Warriors are projected for TEN 20+ HR hitters but only one 30+ (aforementioned Sano). OH YEAH there's also Byron Buxton and Christian Yelich, those guys are both like top 20 OFs these days so yanno……they could help too. (I am trying to be less wordy in these things but I am sure I will lose the battle later on in the series, writing teachers always say it is harder to write short papers than long ones IT IS TRUE)
UPDATE:  They also went out and got Wil Myers, he is good. And Gleyber Torres, he very well may be good.
1-  Francisco Lindor
2-  Carlos Correa
3-  Anthony Rendon
4-  Christian Yelich
5-  Byron Buxton
THE PITCHERS!:  The Warriors CALLING CARD, also this team's calling card for probably its entire existence and all prior names. SO WHY KEEP WRITING NEW SHIT, I'll just edit what I had last year:
"List your top 5 fantasy SPs and the Punchouts likely have three of them with Clayton Kershaw (1) (5 last year according to ESPN Player Rater [due to injury]), Chris Sale (5) (4 last year), and Noah Syndergaard (3 or 4) (this guy got hurt, will see what he's got this year but if healthy he's a Cy Young candidate. Not too far below these three is Stephen Strasburg, a pitcher good enough to be in that top 5 if he can for once in his fucking life avoid injury for a full season."
Alright enough of this, Stras actually managed like 175 innings last year and ended up rated 8th is the point. The Warriors still didn't feel this was quite enough so they surrendered top talent to get top talent and acquired Yu Darvish, now with the Cubs. OH and they also finally pried James Paxton from my cold dead hands, he's usually an SP1 for like 100 innings a season with the other innings lost to injury or ineffective due to returning from injury. But yea HE IS VERY GOOD, and he's only like the 6th best starter on this team. FOR SHITS AND GIGGLES they added David Price this offseason, add him to the list of potential aces for the GSW if they can avoid the injury bug. KINDA THE ENTIRE PROBLEM WITH PITCHERS, but you can't fault the Warriors for facing that problem head on by rostering a bunch of really really good pitchers. They also have Dylan Bundy for further shits and giggles. The rotation is very good is the point, I am almost annoyed to be reviewing it.
As for the pen, lets go to what I said last year once again:
"Bullpen-wise, this bullpen offends me eeeeeeven more than the 3EF bullpen, as it comprises only two individuals right now (surely either some pitching or some outfielders bats will need to be swapped out if the PP want to compete in relief categories). David Robertson Brad Hand is a solid closer that will deliver good Ks and will save some games, albeit for the Padres so HOW MANY MAN? Sam Dyson is FAR LESS solid Carl Edwards Jr. is probably an even better reliever but he is currently resigned to holds duty in the Cubs pen. ADDITIONAL ASSEMBLY REQUIRED.  UPDATE:  They heeded my words and did some additional assembly and added Craig Kimbrel and he is the 2nd best closer in fantasy so good job. Also they grabbed Sean Doolittle and health permitting he's a realllll solid option as the Nats current closer.
1-  Clayton Kershaw
2-  Chris Sale  Stephen Strasburg
3-  Noah Syndergaard
4-  James Paxton
5-  David Price
THE PREDICTION!:  7-10-1, 8th place.  The rotation is possibly the best it has ever been, assuming good health. But that is a bit o' a big assumption with Kershaw's back acting up, Paxton being Paxton, Strasburg being Strasburg, and Thor coming back from injury. A good core of hitters as well, but UNTIL I see this owner stop losing early season matchups by failing to start 12 or some other fuckery I am forced to figure they'll drop a few games they shouldn't have and drop out of the playoff race a tad early as a result of it. Prove me wrong, Warriors.
THE COMMISH'S PREDISH! (Odom's Prediction):  7-11, 8th place.